First of all, I just wanna say, Woo!! I had so much fun this past week, but man am I so glad it is all over. I don't think I have ever cooked so much in such a short period of time. Above is me and my friend Janet Ladue. She is the one that put on the bake sale I took part in and she is a rockstar!! If anyone lives in Phoenix, Arizona and needs a cake made, she does amazing things with cakes!
Most of my goodies all set up. I didn't make the cookies in the bags in the very front, but the rest is all what I baked, and there was still a box full under the table. I ended up making 5 Extract Pound Cakes, Chocolate Orange Cake, Raspberry Truffle Brownies, Pina Colada Bars, Mexican Wedding Cookies, and Bavarian Apple Torte. Yeah, lots and lots of baking.
Taste of the Nation Party!!!
Janet, with all of her hard work got invited to this super nice event and was nice enough to take me with her. It was such fun, and the 5 course meal we were served was amazing!


This centerpiece was gorgeous! I had to take a picture!! Although, my picture doesn't really do it justice, but it was like a branch with all of these candles hanging down off of the ends. So pretty!
Our elegant table settings. I'm sure I looked like the biggest tourist with all the pictures I was taking, but you could really appreciate the amount of time and effort that went into all of the little things, I couldn't help but keep getting out my camera.
Beau MacMillan!! This was so fun! Some of you might recognize this chef from Food Network. He was such a nice guy! We didn't get to sit at the table he cooked for, but still it was super fun to meet him!
Our Meal!!!
Chestnut Veloute / Manchego & Prosciutto Panini

 
This was so yummy!! And honestly probably my favorite course. The soup tasted like something you would have at Thanksgiving dinner and then the sandwich with it was the perfect combination of flavor.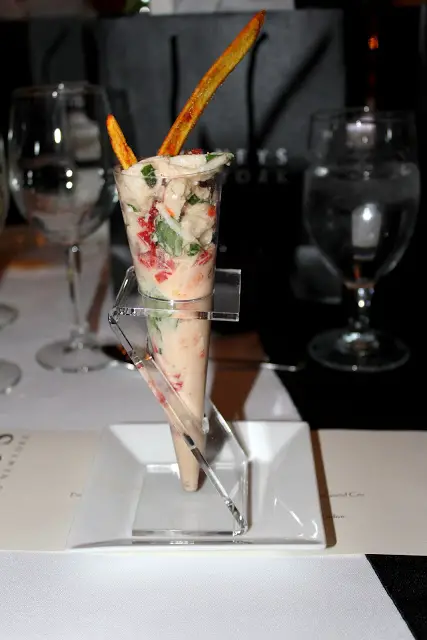 Lobster Ceviche / Arrabiatta Pepper Crudo
Fred's Macaroni and Cheese / Foie Gras / Rustichella Pasta / Pecorino Grand Cru
This course I was super nerves about. For those that don't know, Foie Gras is a fancy way of saying duck's liver. I did try it, which is kind of part of my personality, I'll try anything once, but I would probably not ever try this again. It is firm on the outside and then basically the consistency of a booger on the inside. And the taste isn't much better. Kind of bitter. The macaroni and cheese was good and so was the chip thing under the liver, but ugh, the liver was pretty bad. Yuck!
Molasses-Demi Short Rib / Boston Baked Beans / Braised Endive
This and the dessert tied as my second favorite course. The ribs literally fell apart, and although the beans had a pretty strong flavor, as a country girl, I loved them.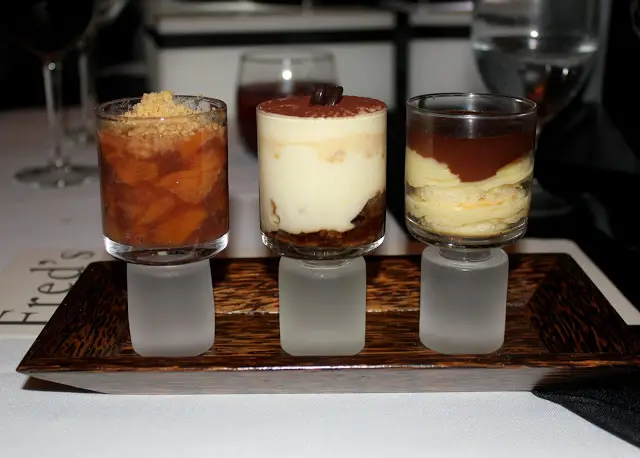 Peach Ale Cobbler / Tiramisu / Boston Creme Pie
I just want to send a special thank you out to Janet for inviting me to come along and take part of this super yummy meal, and such an awesome event.