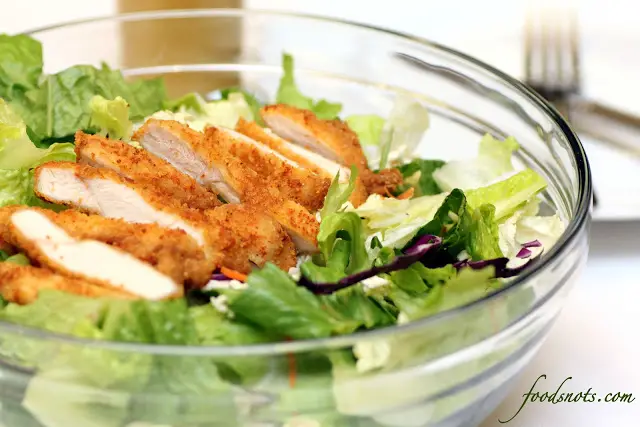 Out of all the places there is to go out to eat Applebees is probably not my restaurant of choice. Out of everything on that menu, I've had 2 or 3 things that I actually like. But this is one of them. They have the most amazing Oriental Chicken Salad ever!! Which this is a copy cat recipe of, and is actually amazingly similar. The dressing is both sweet and sour, but in a good way. Then you get the smooth crisp texture of the lettuce combined with the rough juiciness of the fried chicken. Seriously, if you are trying to eat healthy, you gotta have this salad (or even if your not eating healthy). You could also go a step further to make this salad even healthier and grill your chicken instead of frying it, but if you ask me, you are already eating a salad for dinner so go ahead and don't feel guilty about frying up the chicken 🙂 Seriously amazing!! Enjoy!


Oriental Dressing
3 tablespoons honey
1 1/2 tablespoons white vinegar
4 teaspoons mayonnaise
1 tablespoon Grey Poupon Dijon mustard
1/8 teaspoon sesame oil
Salad
2 to 4 cups vegetable oil for frying
1 egg
1/2 cup milk
1/2 cup all-purpose flour
1/2 cup cornflake crumbs
1 teaspoon salt
1/4 teaspoon pepper
1 boneless, skinless chicken breast half
3 cups chopped romaine lettuce
1 cup chopped red cabbage
1 cup chopped napa cabbage
1/2 carrot, julienned or shredded
1 green onion, sliced
1 tablespoon sliced almonds
1/3 cup chow mein noodles
Using an electric mixer, blend together all the ingredients for the dressing in a small bowl. Put the dressing in the refrigerator to chill while you prepare the salad.
Preheat the oil in a deep fryer or frying pan over medium heat. You want the temperature of the oil to be around 350 degrees F. If using a frying pan, the oil should be around 1/2 inch deep. More oil can be used in a deep fryer so that the chicken is immersed.
In a small, shallow bowl beat the egg, add the milk, and mix well. In another bowl, combine the flour with the cornflake crumbs, salt, and pepper.
Cut the chicken breast into 4 or 5 long strips. Dip each strip of chicken first into the egg mixture then into the flour mixture, coating each piece completely. Fry each chicken finger for 5 minutes or until the coating has darkened to brown.
Prepare the salad by tossing the romaine with the red cabbage, napa cabbage, and carrot. Sprinkle the green onion on top of the lettuce mixture. Sprinkle the almonds over the salad, then the chow mein noodles.
Cut the chicken into bite-size chunks. Place the chicken on the salad, forming a pile in the middle. Serve with the salad dressing on the side.
Recipe from Top Secret Restaurant Recipes