It's finally Summer!! Gotta love having my little ones out of school 🙂 I will admit it has been a little bit of an adjustment this last week. They are so use to having stuff to do all say, that now that they're out, it's been kind of a full time job cleaning up after them and also finding tasks to keep them occupied. We need to find some kids crafts. But I love having them home.
But like I said this last week has been crazy. We also had my cousin's baby shower last week, and yeah. I needed a couple of days just to recover from that. Love throwing parties, but they are a lot of work. It's always fun though cause I get an excuse to get some new decorations 🙂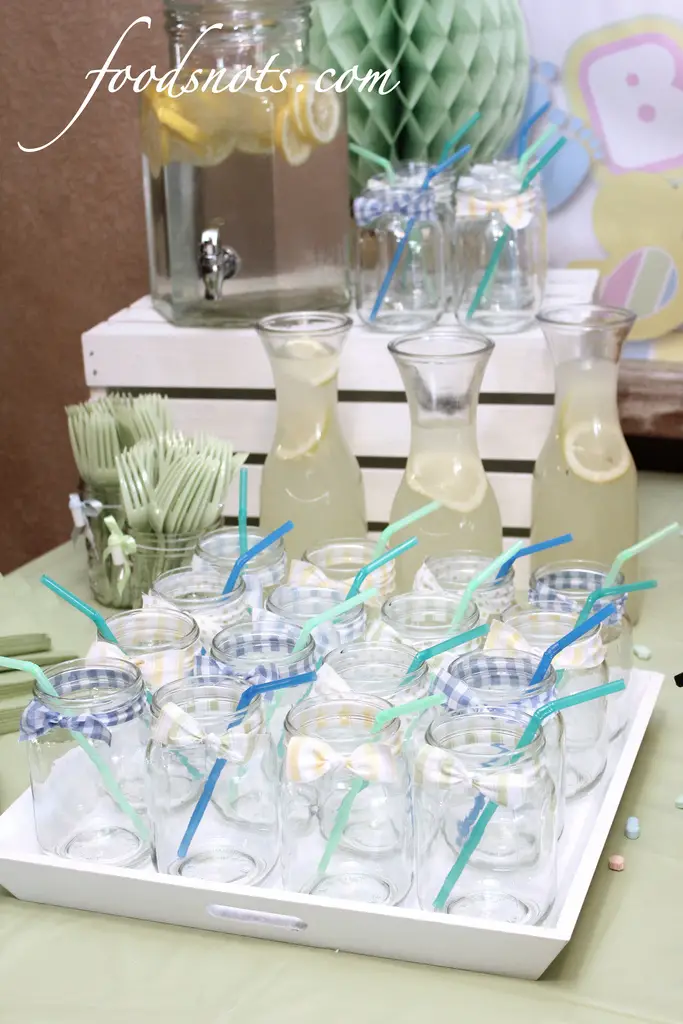 I saw this amazingly creative idea, on Glorious Treats, for using mason jars instead of paper cups for your drinks. Love it!!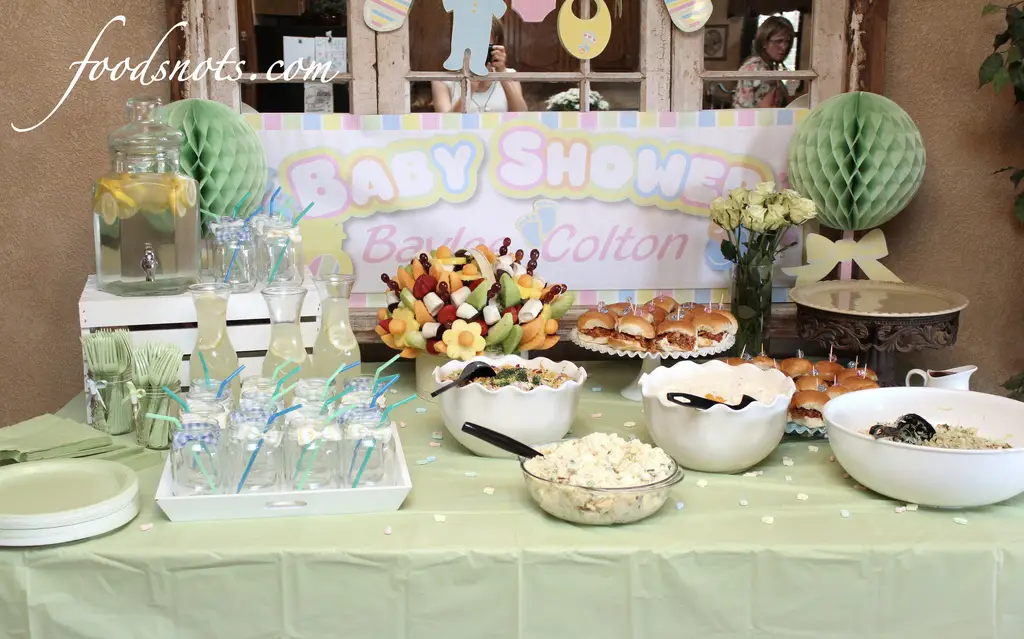 Here was our whole spread 🙂 Food is always the centerpiece of our parties.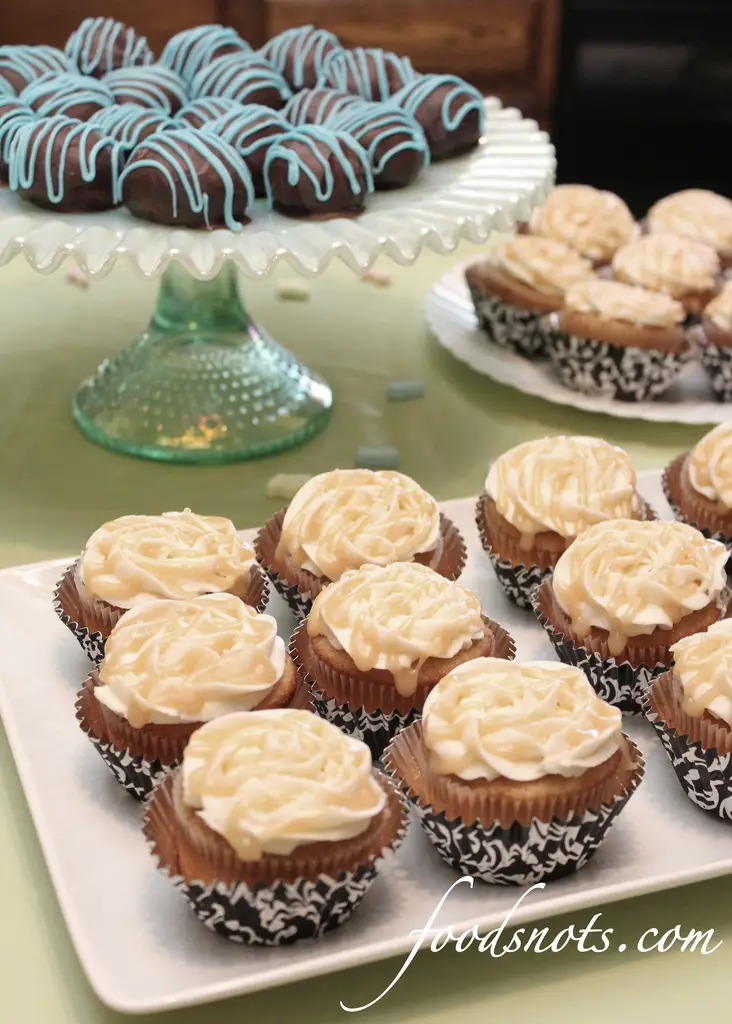 And last, but no least, my cupcakes and Oreo Truffles on the dessert table. (A little confession: I seriously think had like 5 of those stinking Oreo Truffles over the course of last week. Ok, I know it's more then 5, but I'm not admitting how many!! Needless to say, this week, is nothing but carrots and celery sticks week.)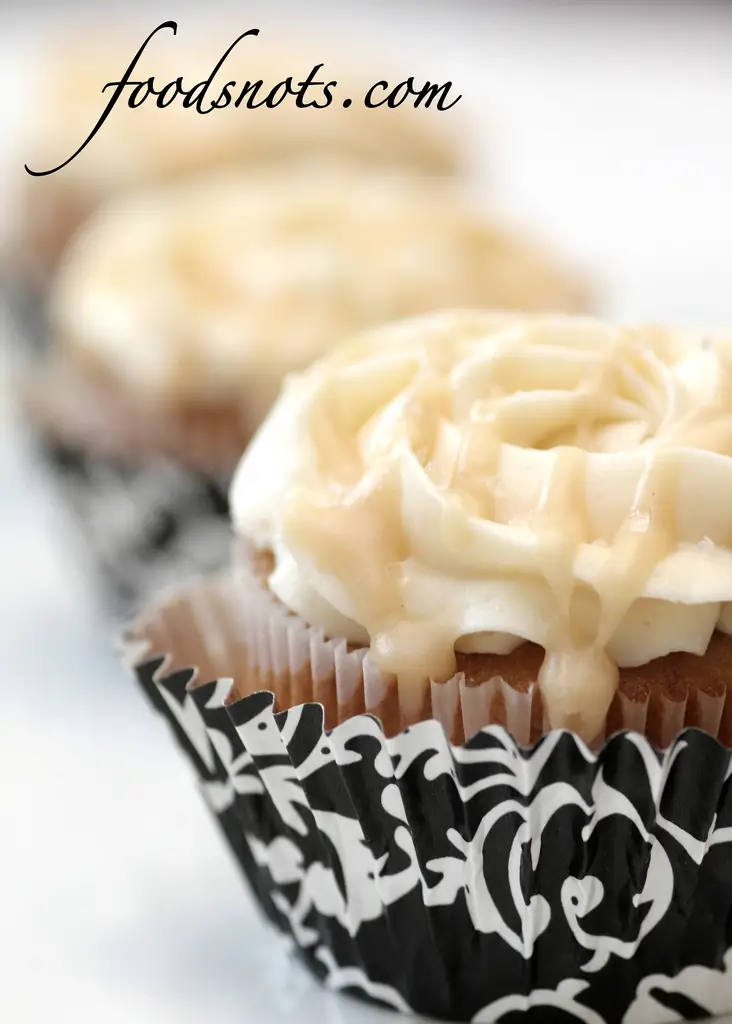 All and all, a pretty busy, but oh so fun, week!! I had to share this Salted Caramel Recipe though. It's amazing! Just the right amount of caramel, with a super flavorful cupcake, and then how can you pass up vanilla buttercream. Ugh!! Moist, gooey, creamy, and decadent!! Enjoy 🙂
Brown Sugar Cupcakes
1 1/2 cups all-purpose flour
1 teaspoon baking powder
1/4 teaspoon salt
1 stick of unsalted butter, softened
1 cup plus 2 tablespoons packed light brown sugar
2 large eggs, at room temperature
1 teaspoon vanilla
1/2 cup plus 2 tablespoons milk
Salted Caramel Filling and Drizzle
     1/2 cup sugar
     3 tablespoon salted butter cubed
     1/4 cup plus 1 tablespoons heavy cream, at room temperature
Vanilla Buttercream Frosting
     3 cups confectioners' sugar
     1 cup butter, softened
     1 teaspoon vanilla extract
     1/4 cup whipping cream
     2 tablespoons sea salt (for assembly)
Preheat oven to 325 degrees F. Line muffing tins with papers. In a medium bowl, combine flour, baking powder and salt; set aside.
In a large bowl, cream butter and brown sugar on medium-high speed until pale and fluffy. Add eggs, one at a time, beating until each is incorporated. Add vanilla. Mix and scrape down sides of bowl as needed. Add flour mixture in three batches, alternating with two additions of milk, and beating until combined after each.
Divide batter evenly among lined cups, filling each about 2/3 full. Bake for 20 to 25 minutes. (while baking make salted caramel filling and set aside to let cool) When done transfer tins to wire racks to cool 10 minutes; turn out cupcakes onto racks and let cool completely.
To start caramel, melt butter and sugar in a medium saucepan over medium high heat. Bring to a boil and boil for 2 to three minutes, stirring continually. Turn down heat to low until mix stops boiling and add cream. Turn burner back up to medium high and cook mixture, continually stirring, until caramel just starts to boil again. Set aside and let cool to about room temperature.
While cupcakes and caramel are cooling, prepare frosting by mixing together sugar and butter in a standing mixer fitted with a whisk. Mix on low speed until well blended and then increase speed to medium and beat for another 3 minutes.
Add vanilla and cream and continue to beat on medium speed for 1 minute more. Add more cream, one tablespoon at a time, if needed for spreading/piping consistency. Set aside.
When cupcakes are cool enough to handle, remove centers using a piping tip, going 1/2 way into the center of the cupcakes (keep the top portion of the cupcake that you remove). For pictures on this click here and scroll down. Fill a piping bag with 1/4 of the cooled caramel and set aside. With remaining caramel, spoon caramel into the center of the cupcakes, then cover with the little cake top cap.
Pipe or spread vanilla buttercream over cupcakes, then drizzle with caramel in piping bag (you may need to warm it up just a little). Immediately after drizzling cupcakes with caramel, sprinkle on a little bit of sea salt.
Cupcake and caramel recipes altered from sprinklebakes.com and frosting recipe altered from foodnetwork.com