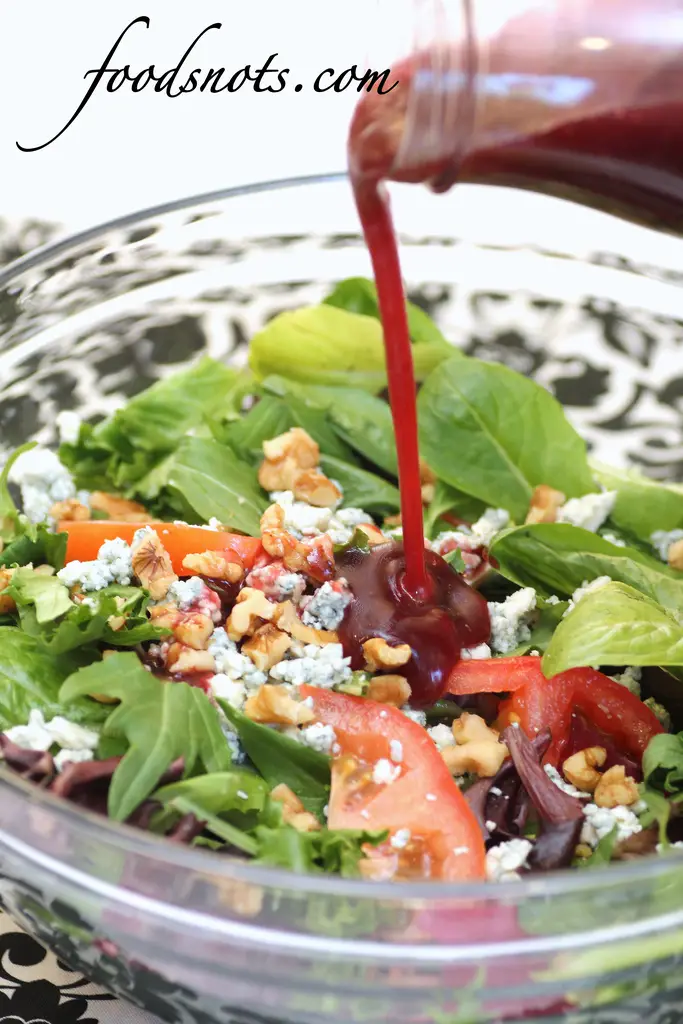 I'm back!! I took a little vacation to go take care of my little sister, who just found out that she's pregnant! Yay!! They have been trying to get pregnant for about a year and a half, so we are all super excited for her 🙂 So I went up for the week to take care of her, fix her meals, help clean up, etc. She gets morning sickness pretty bad, so I had to go fulfill my big sister role.
But, now that I'm back, I figured I'd post a super easy, completely delicious salad recipe!! This is my favorite salad of all time. It's crunchy from the walnuts, a little bitter from the gorgonzola, and tangy sweet from the Raspberry Walnut Vinaigrette. Not to mention, it's packed with flavor!! Simply amazing! Enjoy 🙂
California Salad
4 cups mixed salad greens
2 tablespoons chopped walnuts
6 slices roma tomato
2 tablespoons crumbled gorgonzola cheese
Raspberry Walnut Vinaigrette
1 cup raspberry jam
1/4 cup cold water
1 tablespoon apple cider vinegar
1 teaspoon walnut oil
kosher salt to taste
freshly ground pepper to taste
1/4 cup canola oil
Toss the salad greens and walnuts together in a bowl. Top with tomato slices and sprinkle with cheese. Set aside.
Prepare Raspberry Walnut Vinaigrette by combining the jam, water, vinegar, walnut oil, salt and pepper in a bowl and mix well. Add the canola oil slowly, whisking constantly until blended. Drizzle vinaigrette over salad and serve immediately.
Store the vinaigrette in a jar with a tight-fitting lid in the refrigerator for up to 3 weeks.