Pomegranate bracelet is a real decoration at a festival board
If you are going to organize a party, we offer you to cook a wonderful, bright and exotic pomegranate bracelet salad.
Apart from its unusual and nice taste, this salad is a perfect dish at the festival board as far as it looks very attractively!
If you don't like such a great amount of ossicles, you may cook this salad, using pomegranates without any ossicles. This fruit has a light pink color without its typical sour taste. The seeds are enough soft to chew.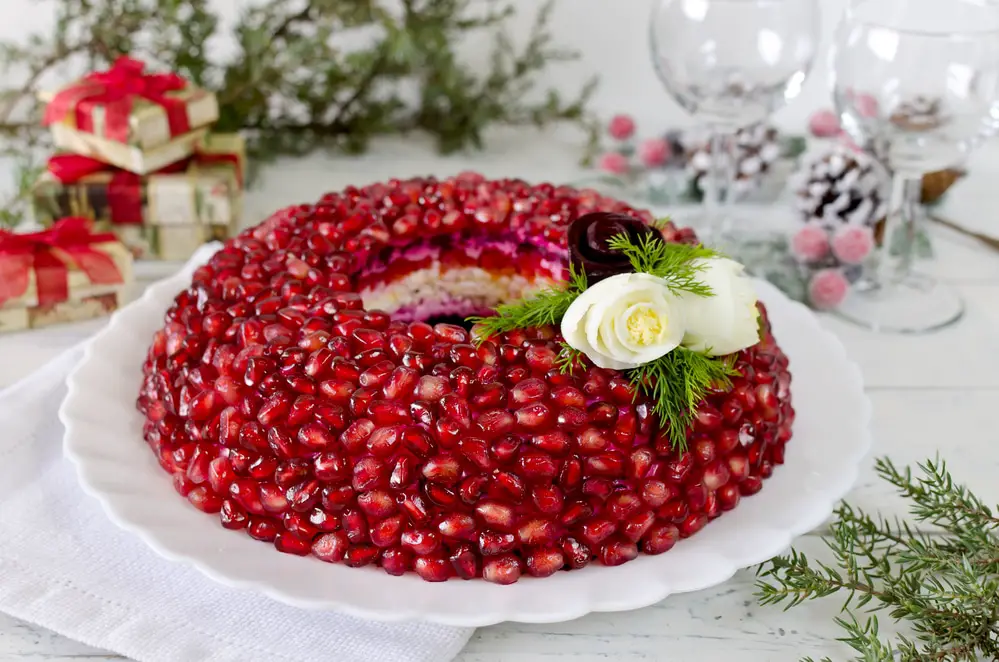 Pomegranate bracelet salad: Ingredients
300 gm  of chicken fillet;
2 pomegranates;
2 beets;
2 carrots;
2 potatoes;
1 onion;
3 eggs;
70 gm of walnuts;
200 gm of mayonnaise;
1 tablespoon of 9 % Vinegar;
1 teaspoon of sugar;
black pounded pepper to your taste;
salt.
Cooking
Boil beet, potatoes and eggs. Let them cool and peel the ingredients. Grate them and put each product in its plate.
Boil chicken fillet in a salted water and cool it. Now cut it into small cubes. You can also fry them a little in vegetable oil.
Chop the onion finely and pickle it for 15 minute. Add salt, sugar and vinegar.
Grate the carrot. If it is too juicy, then strain off the excess juice.
Dry out the walnuts, peel and pound them.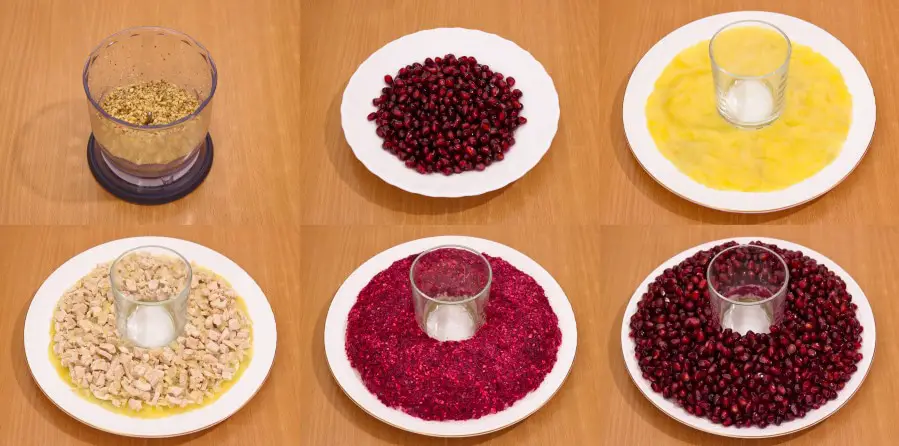 Put a glass in the center of a wide plate to form the future bracelet. Start laying out the salad round the glass by layers. Add salt, pepper and smear each layer with a thin mayonnaise grid in the next sequence:
potatoes;
beet;
carrot;
walnuts;
chicken fillet;
onion;
eggs;
chicken fillet.
Now take the glass out of the salad, smear it with the mayonnaise and coat the top with the pomegranate seeds.
Now cover the dish with a food film and leave the dish in a fridge for 4 – 5 hours to let it soak.
Bon appetite!