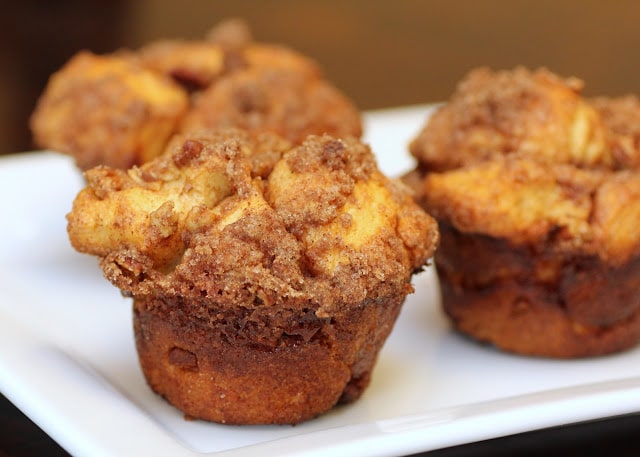 I made these for my kids the other day for breakfast. They were so super easy, and so super good! Kind of like a sticky bun, except not sticky. The only thing that frustrated me about this recipe is, well in the morning I'm always trying to get on top of things, doing dishes etc etc. So I threw the muffins in the oven for the minimum time, and 20 minutes later went to take them out, and they were totally overdone. There were only a few that didn't get overcooked. So I changed the time for the recipe to 15-20 minutes instead of 20-25 minutes. Just keep in mind that if at 20 minutes you're rolls still need a little more time, it's ok. Other then the confusion on how long to actually bake these, this recipe was awesome.
Ingredients
1/4 cup pecan halves, chopped
2/3 cup sugar
1 tablespoon cinnamon
2 packages (11.3 ounces each) refrigerated flaky dinner rolls
1/3 cup butter of margarine, melted, divided
1 tablespoon all-pupose flour
Directions
Preheat oven to 375 degrees. Combine pecans, sugar and cinnamon in a small bowl, mix well.
Separate rolls; cut each roll into six pieces using pizza cutter.
Place half of the dough pieces and 2 tablespoons of the butter in medium bowl; toss gently to coat. Sprinkle with 1/4 cup of the sugar mixture; toss to coat. Divide dough pieces evenly among six muffin cups. Repeat with remaining dough, 2 tablespoons of the butter and 1/4 cup of the sugar mixture; divide evenly to fill remaining muffin cups.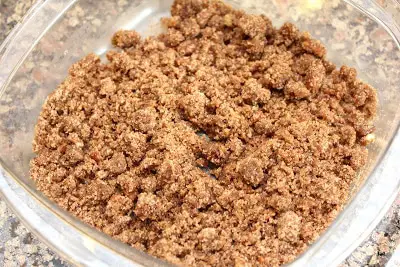 Add flour to remaining sugar mixture; add remaining butter and mix until crumbly.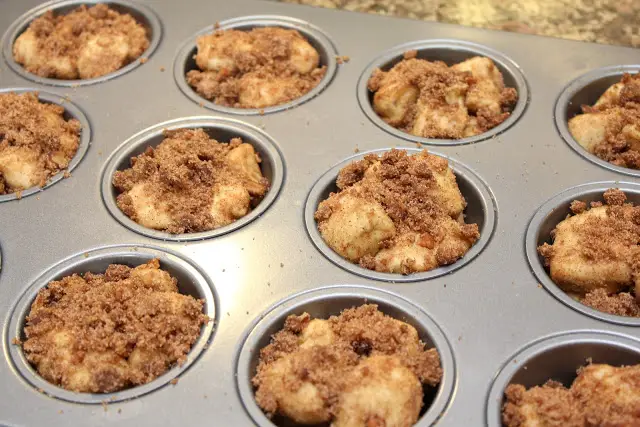 Place a small spoonful scoop of crumb topping over each muffin.
Bake 15-20 minutes or until muffins are deep golden brown. Remove from oven. Cool in pan 5 minutes. Remove from pan serve warm.
Recipe from The Pampered Chef All the Best