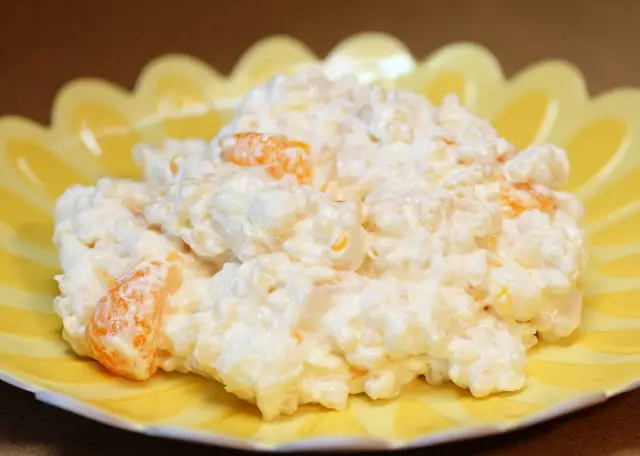 K, let me first of all say, that this doesn't really have frog eyes in it, so don't be deterred by the name. I don't really know where the name came from, but this recipe is awesome! My family has been making it for family get togethers for as long as I can remember, and usually it's the first thing to run out. This is a super yummy, creamy, pasta/fruit salad. This is one of those recipes that you need to read through before you start though. Otherwise, it's just really frustrating. The first time I made this, I drained the juice of my fruit into the sink and had to make a grocery store run at like 10pm at night. So read through the directions before starting. I won't be adding an estimated cooking time on this recipe because you are suppose to refrigerate overnight, so just know it's something that you would start on the day before you actually wanted it. But this recipe is so worth it and is something that everyone will love. Enjoy!!
Ingredients
2 cups uncooked Acini Pepe pasta
1 20 ounce can crushed pineapple
1 20 ounce can pineapple tidbits
2 cans mandarin orange segments
2 tablespoons flour
1 cup sugar
2 eggs, beaten
3 cups miniature marshmallows
1 8 ounce container cool whip
1 8 ounce package cream cheese, softened
Cook pasta as per directions on box. Rinse pasta and Cool.
Drain juice from canned pinapples and mandarin orange segments into a bowl. Set aside. In a seperate bowl, mix flour and sugar. Add beaten eggs and blend. Stir in 2 cups of saved juice, if needed add water to juice to make 2 cups. Place in a sauce pan and over medium heat, cook stirring until thickened. Cool until only slightly warm and add marshmallows. Cool then add cooled cooked pasta. Stir well. Refrigerate overnight.
The next day mix together the cool whip and cream cheese in separate bowl. Add to pasta mixture. Fold in fruit. Mix well. Refrigerate until serving. Refrigerate leftovers.