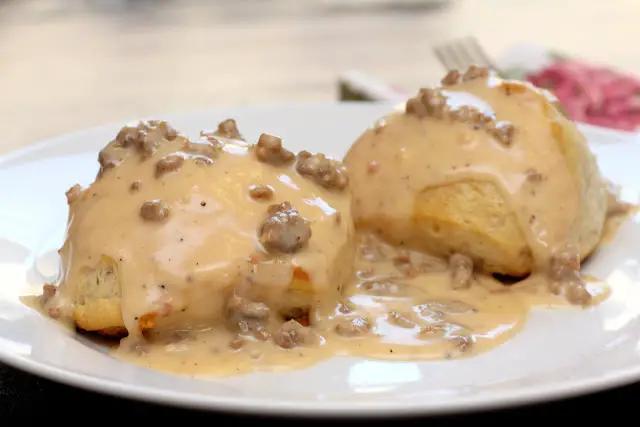 Hey Everyone! I wanted to add a fun breakfast recipe before Saturday, since that's my day to have everyone sit down in the morning and actually start the day together 🙂 I love biscuits and gravy! And it is so quick and easy! I think a big problem that people incur is that they make their gravy too runny, but this recipe is pretty much mistake-proof. If you do by chance add to much milk, just keep some cream of tartar close by. Add like 1/2 a teaspoon and boil for a couple minutes, that will thicken it up. Also, don't be afraid to get flavored sausage if you are wanting something a little different. I used italian ground sausage and it turned out really yummy. Enjoy!!
Estimated Cooking Time: 20 minutes if you bake biscuits, and 10 minutes if your biscuits are already made.
Ingredients
1/4 pound bulk pork sausage
2 tablespoons butter
2 to 3 tablespoons all-purpose flour
1/2 teaspoon salt
1/8 teaspoon pepper
1 1/4 to 1 1/3 cups milk
Warm biscuits
In a skillet, cook sausage over medium heat until no longer pink; drain. Add butter and heat until melted. Add the flour, salt and pepper; cook and stir until blended.
Gradually add the milk, stirring constantly. Bring to a boil; cook and stir for 2 minutes or until thickened. Serve over biscuits.
Recipe from The Taste of Home Cookbook