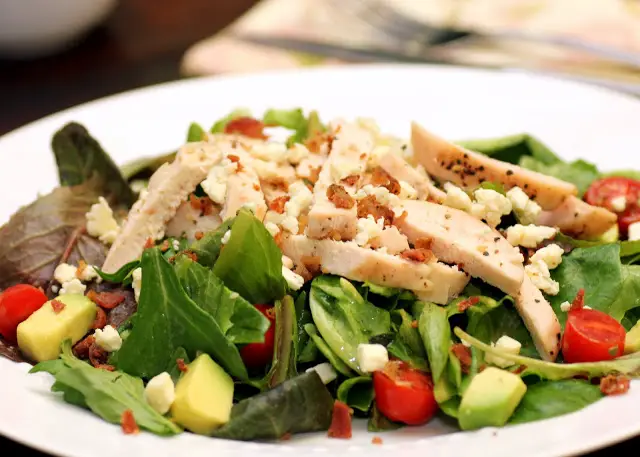 Usually I don't make a whole lot of salads cause I just serve vegetables as a side, but I wanted to mix things up a bit. And this looked so yummy. I mean how can you go wrong with anything that includes avocados and blue cheese? On that note, if you don't like blue cheese, don't let that deter you from this recipe. Just substitute if with like a feta or something. But overall this salad was super yummy and with only 263 calories per serving it's definitely worth it. Enjoy!
Ingredients
cooking spray
1 1/2 pounds skinless, boneless chicken
1/4 teaspoon salt
1/4 teaspoon black pepper
8 cups mixed greens
1 cup cherry tomatoes, halved
1/3 cup diced peeled avocado
2 tablespoons sliced green onions
1/2 cup fat-free Italian dressing
2 tablepsoons crumbled blue cheese
1 bacon slice, cooked and crumbled
Heat a large nonstick skillet over medium-high heat. Coat pan with cooking spray. Sprinkle chicken with salt and pepper. Add chicken to pan; cook 5 minutes on each side or until done. Cut into 1/2-inch slices.
Combine greens, tomatoes, avocado, and onions in a large bowl. Drizzle greens mixture with dressing; toss gently to coat. Arrange about 2 cups greens mixture on each of 4 salad plates. Top each serving with 4 ounces chicken, 1 1/2 teaspoons cheese, and about 1/2 teaspoon bacon.
Recipe from Cooking Light Comfort Food