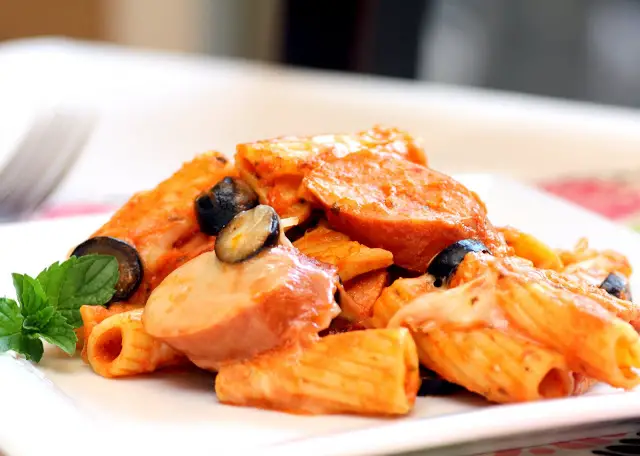 My kids have been having swim lessons every morning, so it's been tricky to find the time to post right before I leave. But I wanted to quickly post another dinner recipe, especially since this is such a yummy and easy meal!! You just cook the noodles, cut up the sausage, throw it all together in a casserole dish and bake it. Super simple and super delicious!! Enjoy 🙂 (Makes enough for about 4 adults)
Estimated Cooking Time: About 50 minutes.
Ingredients
8 ounces (3 cups) uncooked dried rigatoni pasta
1 (14- to 16-ounce) package cooked smoked turkey sausage, cut into 1/2-inch slices
1 (14- to 15-oune) jar pizza sauce*
1/4 cup whipping cream**
1 (2.25-ounce) can (1/2 cup) sliced ripe olives, drained
4 ounces (1 cup) Mozzarella Cheese, shredded
*Substitute 1 1/2 cups of your favorite spaghetti sauce.
**Substitute 3 tablespoons milk and 1 tablespoon melted butter.
Heat oven to 350 degrees. Cook pasta according to package directions (Tip: Pasta shapes can be substituted as long as you choose another that is similar in shape and size. Mostaccioli, penne or ziti are great substitutes for rigatoni. Because pasta will continue to cook when used in baked recipes, cook it the minimum amount of time listed on the package). Drain; set aside.
Combine all ingredients except cheese in greased 3 quart casserole. Cover; bake for 30 minutes. Uncover; sprinkle with cheese. Continue baking, uncovered, for 10 to 15 minutes or until rigatoni mixture is heated through and cheese is melted.
Recipe from Land O' Lakes Recipe Collection Baking and More