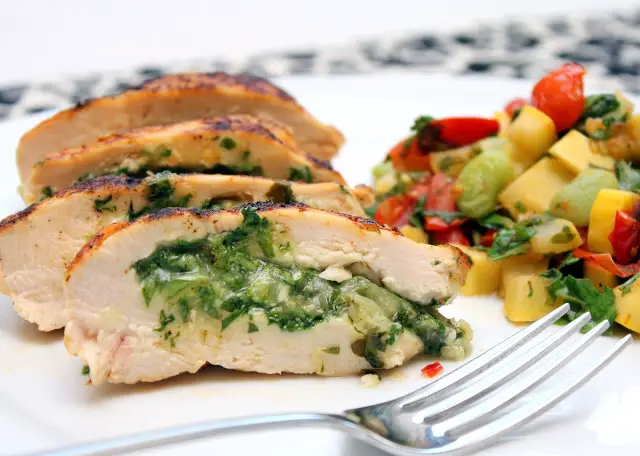 I think it's about time for some savory recipes. We tried this recipe last night for dinner, and it was good. Not great but good. The chicken had really good flavor with the Cajun seasoning and I loved it with the pepper-jack cheese. The one thing that kind of threw me off was the arugula. It leaves a bitter aftertaste which was kind of unpleasant. Personally, I think if you left the arugula out all together the chicken would be awesome!! So I would just stuff it with spliced pepper-jack cheese. The other thing I didn't like about this recipe was the succotash. I didn't actually know that succotash was a side. The only time I had ever heard of it was on Looney Tunes when Sylvester says, "Suffering Succotash." And that statement completely describes the experience of eating it, suffering!! I actually should have known better because I hate lima beans, and that is all you can taste in the succotash. So unless you love lima beans, don't make the it. It really was awful!! But if you make the changes to the chicken portion of the recipe I think it would be awesome. Also please remember to vote on what dessert you would like to see next {to vote click here}. Enjoy 🙂


Ingredients
4 ounces pepper-jack cheese, shredded
4 cups baby arugula, roughly chopped
2 large skinless, boneless chicken breasts (12 ounces each)
1 tablespoon olive oil, plus more for brushing
Kosher salt
1 1/2 to 2 tablespoons Cajun spice blend
1 cup frozen lima beans, thawed
1 medium yellow summer squash, diced
1 cup grape tomatoes, halved
Juice of 1 lime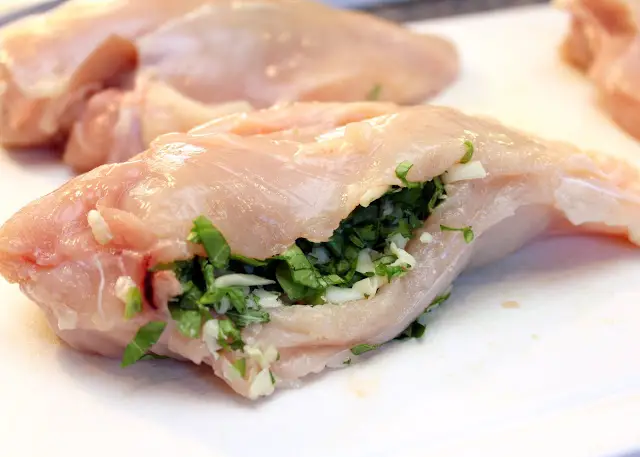 Preheat the oven to 375 degrees. Combine the cheese and 2 cups arugula in a bowl. Cut a deep 2-inch-wide pocket in the thickest part of each chicken breast with a paring knife. Stuff with the arugula mixture. Brush with olive oil and season with salt and the Cajun spice blend.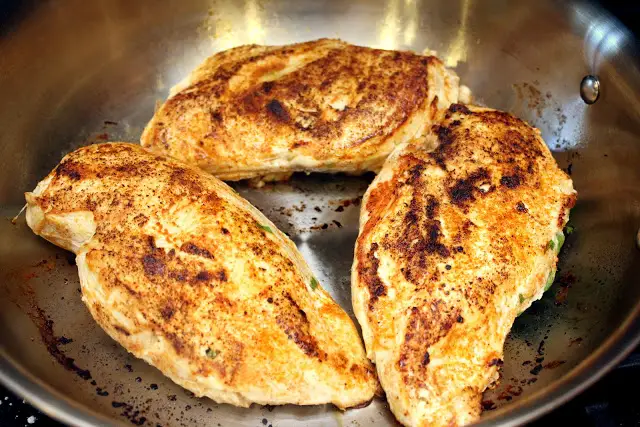 Heat a large cast-iron skillet over high heat until hot, about 5 minutes. Cook the chicken until blackened on the bottom, 3 to 4 minutes. Turn and cook until blackened on the other side, about 2 more minutes. Transfer the skillet to the oven and cook until a thermometer inserted into the thickest part registers 155 degrees, 10 to 15 minutes. Transfer the chicken to a cutting board.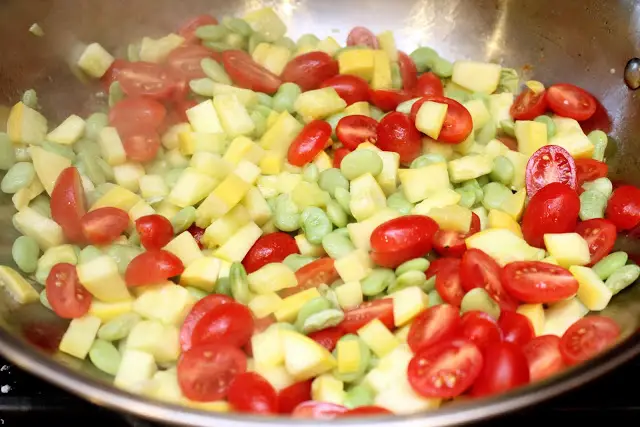 Wipe out the skillet and add 1 tablespoon olive oil. Add the lima beans and squash, season with salt and cook until the squash is just tender, 2 to 3 minutes. Add the tomatoes and cook 2 more minutes. Remove from the heat and stir in the remaining 2 cups arugula and the lime juice. Slice the chicken and serve with the succotash.
Recipe from Food Network's Great Easy Meals