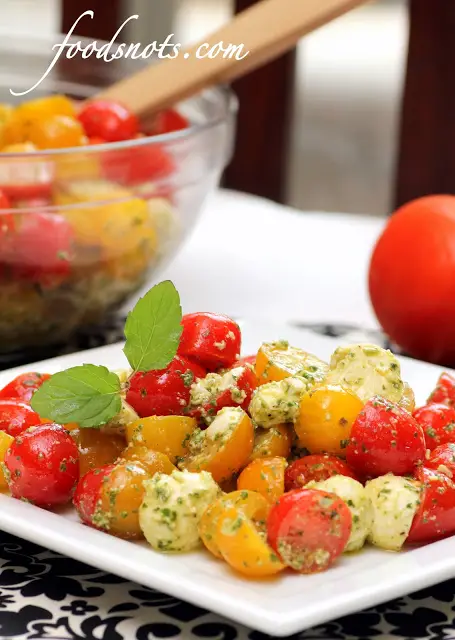 Hey Everyone!! I'm sure all of you are aware that Halloween is coming up soon! Yay! This happens to be my favorite holiday. Christmas comes in a close second, but Halloween has always been my favorite since I was little. So I'm gonna be decking out my posts pretty soon with all Halloween themed stuff, but before then, I wanted to hurry and post some hardy meals and sides before we get ready for the "Candy Holiday".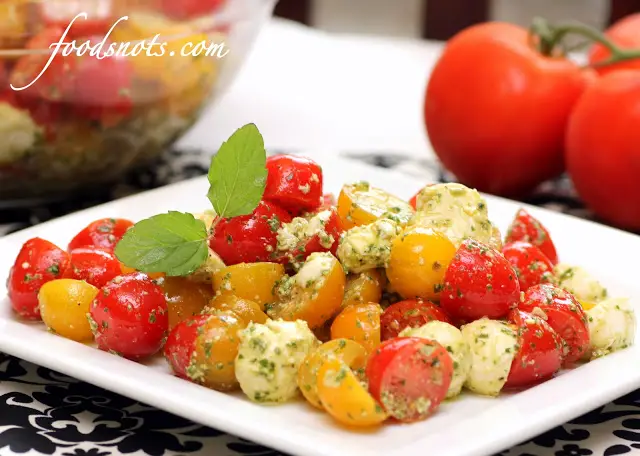 So here is a healthy and delicious salad! I love dishes that taste really healthy and clean, but don't lack in flavor, this is one of them. There are a couple things that I would change though. Really, there should be 1 pound of mozzarella balls, instead of just a half. I found that with only 8 ounces you had so much tomato and it left you hunting for the mozzarella, so double that part of the recipe. Also, I really think that 5 tablespoons of the pesto should be added, but I would add it as you go. Add the 3 tablespoons first and then if you are like me and want that extra flavor then add more as per your taste. But this recipe is so yummy, satisfying, and really super easy. A perfect first course to your meal. Enjoy!
Ingredients
3 tablespoons basil pesto (recipe at bottom)
1 1/2 tablespoons red wine vinegar
1/4 cup extra-virgin olive oil
kosher salt and freshly ground pepper
about 4 cups mixed red, yellow, and orange cherry tomatoes
1/2 pound small, fresh mozzarella balls, such as ciliegine or bocconcino
In a bowl, whisk together the pesto and vinegar. Whisking constantly, slowly add the oil until emulsified. Season to taste with salt and pepper.
Slice the tomatoes and mozzarella balls in half, add to the bowl, and toss gently. Season with salt and pepper and mound on a serving platter. Serve at once.
Makes 4-6 servings.
Basil Pesto
1 or 2 cloves garlic
1/4 cup pine nuts
2 cups packed fresh basil leaves
1/2 cup extra-virgin olive oil
1/2 cup freshly grated Parmesan cheese
kosher salt and freshly ground pepper
With a food processor running, drop the garlic through the feed tube and process until minced. Turn off the processor, add the pine nuts, and pulse a few times to chop. Add the basil and pulse a few times to chop coarsely. Then, with the processor running, add the oil through the feed tube in a slow, steady stream and process until a smooth, moderately thick paste forms, stopping to scrape down the bowl as needed. Transfer to a bowl and stir in the Parmesan. Season to taste with salt and pepper.
Makes about 1 cup.
Recipe from Williams-Sonoma's Comfort Food.