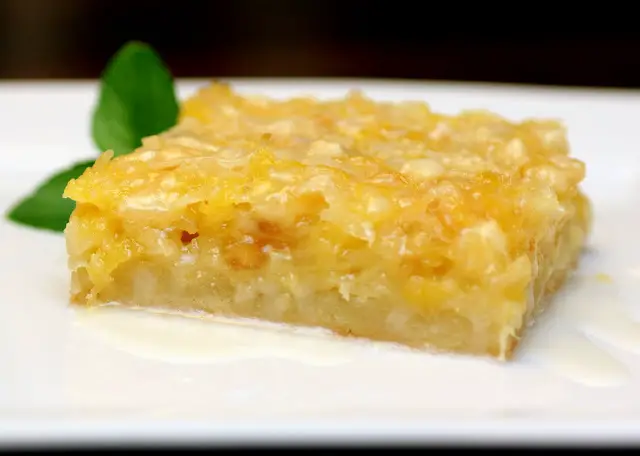 This is a recipe I made a while ago for the bake sale, and just haven't posted it yet. I wanted to quickly add the recipe though cause it was really yummy. Mostly these bar's are made a lot like a lemon square with the fluffy crust on the bottom and the egg mixture on top. I loved the crust. To me the crust is what makes or brakes most desserts, and the crust on this dessert is really yummy. These bars do have a lot of textures going on, which was a little bit of a deterrent from the overall flavor, but they were still pretty yummy. The only thing that I really was disappointed with is the fact that the bars were missing that creamy aspect. Whenever I order a Pina Colada, I expect it to be creamy with some whip cream on top.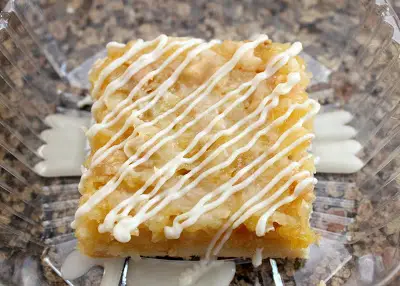 These bars were missing that for me. So to solve that problem after I drizzled the glaze over the the bars, I melted some white chocolate and drizzled that over the glaze. I almost wish that there was also like 1/2 cup of white chocolate chips in with the topping over the crust, but the white chocolate on top at least added some of the flavors and textures that I felt like the bars were missing. Overall, these were fun and different so I would definitely recommend them.
Estimated Cooking Time: About 45 minutes.
Ingredients
1 can (8 ounces) crushed pineapple
1 cup all-purpose flour
1/2 cup butter, softened
3 tablespoons powdered sugar
2 eggs
1 cup granulated sugar
3/4 cup chopped macadamia nuts
1/2 cup flaked coconut
1/4 cup all-purpose flour
1/2 teaspoon baking powder
1/4 teaspoon salt
1/2 teaspoon rum extract
Pineapple Glaze
1/2 cup powdered sugar
2 to 3 teaspoons reserved pineapple juice
Preheat oven to 350 degrees. Grease bottom and sides of square pan, 8×8 or 9×9, with shortening. Drain pineapples well, reserving 3 teaspoons juice for pineapple glaze. In medium bowl, mix 1 cup flour, butter and 3 tablespoons powdered sugar with spoon until flour is moistened. Press in pan. Bake 10 minutes.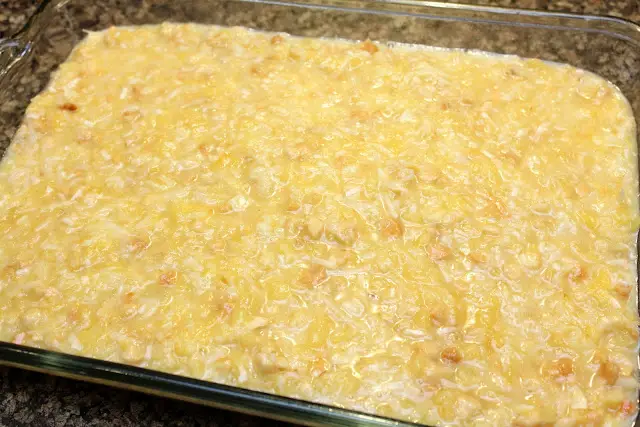 In medium bowl, beat eggs with wire whisk until blended. Stir in pineapple and all remaining bar ingredients. Spread over partially baked crust. Bake bars 25 to 30 minutes or until golden brown. Cool completely (about 1 hour).
In a small bowl, mis all pineapple glaze ingredients until smooth and thin enough to drizzle. Drizzle glaze over bars. Cut into 6 rows by 4 rows.
Recipe from www.bettycrocker.com