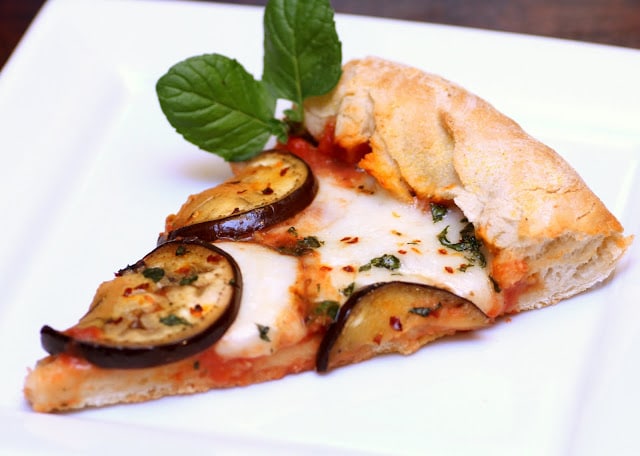 I saw this recipe in my cook book the other day and was super curious. So naturally I just had to try it. I feel like pizza crust is kind of hard to make from home. Although this one was ok, it's always a challenge to get it to be light and airy and not have it be to chewy. You could even just substitute it for store bought crust and just add your toppings, which is what made the whole pizza amazing anyways. I'm a total carnivore, so usually I would say, "Where's the meat?" But this pizza has so much flavor that I wasn't missing it. So yummy! Hope you enjoy.
Estimated Cooking Time: About 1 hour and 35 minutes.
Ingredients
1 package active dry yeast
1 cup warm water
1/2 teaspoon salt
2 teaspoons olive oil
2 1/2 to 3 1/2 cups all-purpose flour
1 tablespoon cornmeal
1 1/2 cups tomato sauce
1 teaspoon italian seasoning
2 garlic cloves, minced
8 ounces mozzarella cheese, sliced
eggplant, sliced
olive oil
red pepper flakes
6 basil leaves, mince
Dissolve yeast in warm water in bowl of electric stand mixer. Add salt, olive oil and 2 1/2 cups flour. Turn mixer to low and mix about 1 minute. Continuing on low, add remaining flour, 1/2 cup at a time, and mix until dough clings to hook and cleans sides of bowl, about 2 minutes. Knead on low about 2 minutes longer.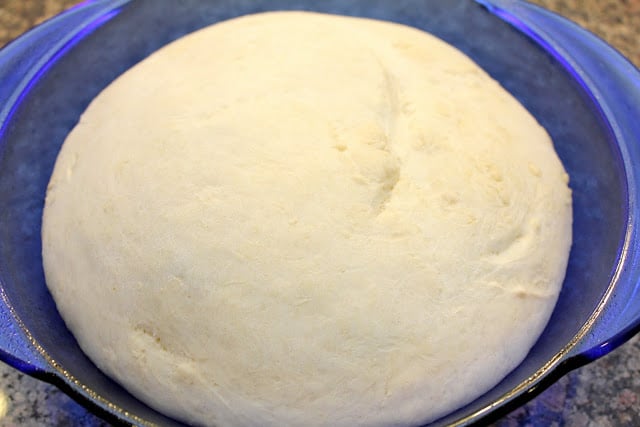 Place dough in greased bowl, turning to grease top. Cover. Let rise in warm place, free from draft, about 1 hour, or until doubled in bulk. Punch dough down.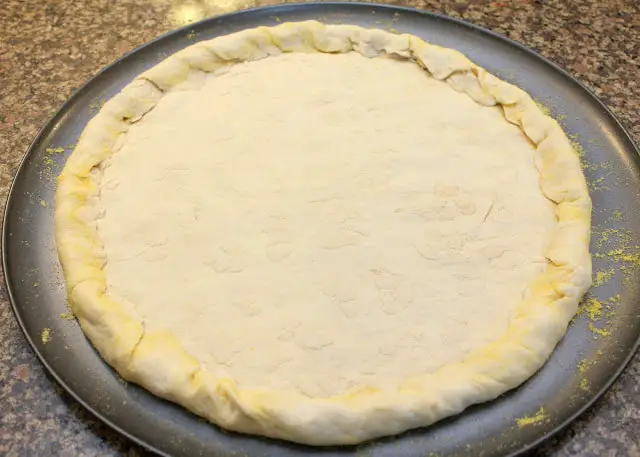 Brush 14-inch pizza pan with oil. Sprinkle with cornmeal. Press dough across bottom of pan, forming a collar around edge to hold toppings.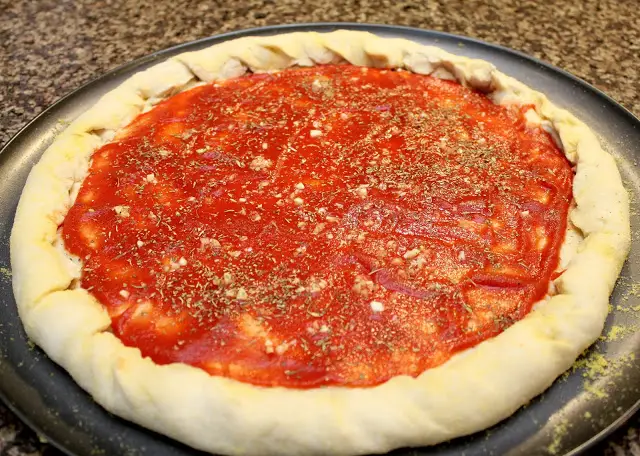 Mix tomato sauce, italian seasoning, and minced garlic, spread over the crust.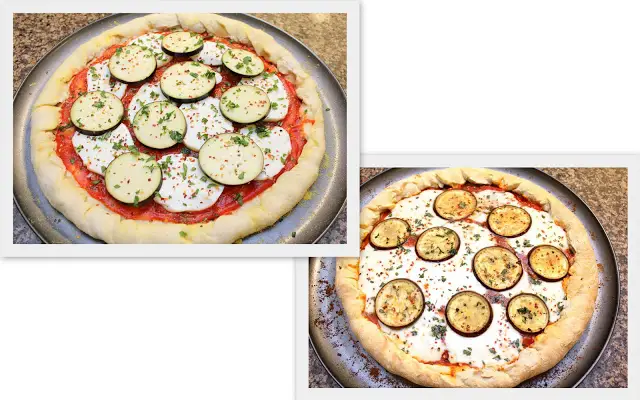 Top with sliced mozzarella. Thinly slice eggplant and toss in olive oil. Add over mozzarella and sprinkled red pepper flakes and minced basil over toppings. Bake at 450 degrees until the crust is golden and the cheese is melted, about 15 to 20 minutes. Season with salt if desired.
Crust recipe from KitchenAid Baking Basics. Toppings recipe from Food Networks Great Easy Meals.