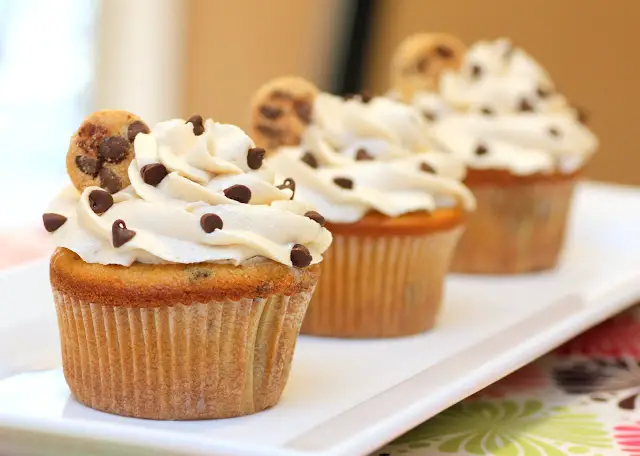 I saw these a couple of weeks ago and just knew I had to try them, so I ended up making them for my son's 7th birthday party. They turned out so yummy! It's kind of heavier then a normal cupcake, but that's only because a lot of the cupcake is made up of a cookie dough center (picture below).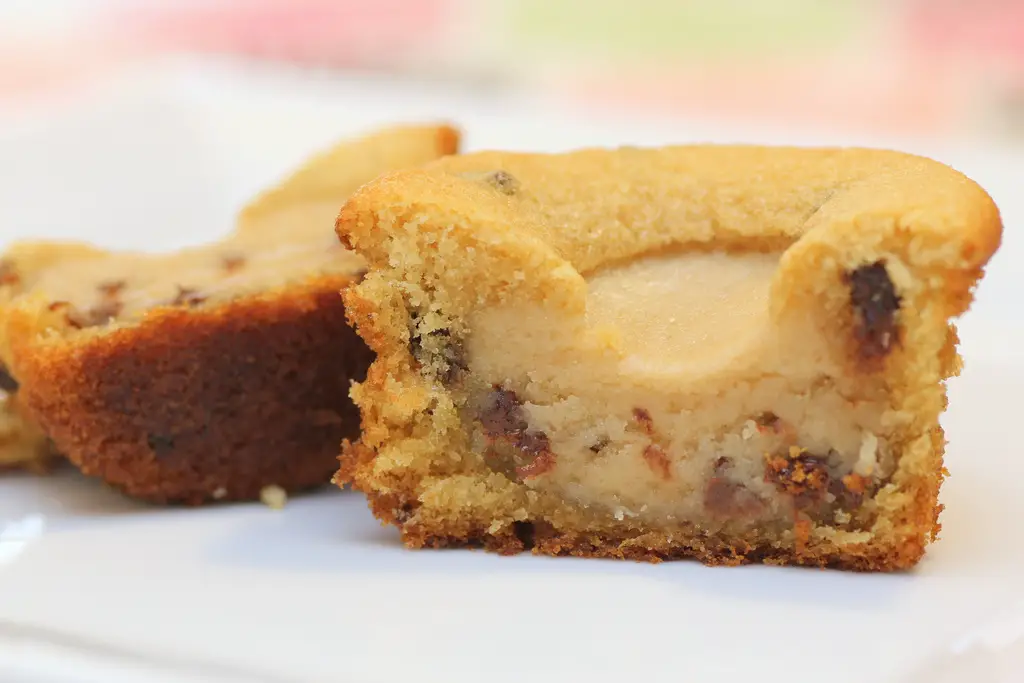 But I gotta say, this cupcake does taste like a chocolate chip cookie, and the Brown Sugar Frosting is amazing! Usually my favorite part of making the cookies is munching on the butter, sugar and vanilla part of the cookie dough right before you add the eggs. This is exactly what the frosting tastes like. Then the cupcake is super moist, a little heavy, but still full of tons of flavor. There were a couple things I did differently then the recipe. I only had to cook my cupcakes for 17 minutes, instead of the 20-22 minutes. Any longer then that and they would have burned, so just keep that in mind when you bake them. Also, I only refrigerated the cookie dough for a couple of hours and they froze pretty quickly. So I'd give them at least 2 hours in the freezer, but you don't need to put them in overnight if you don't have time. Just make sure the dough is good and frozen. Another thing I changed is, in the original recipe from The Spiffy Cookie, she actually made home made mini chocolate chip cookies to go on top, and I didn't. Mostly because these cupcakes are a lot of prep anyways with the cookie dough, the cupcakes and frosting, so I didn't want to make a batch of cookies on top of that. As an alternative, I just got Mini Chips Ahoy Cookies and used that as decoration instead. Faster and trust me, these cupcakes have enough going on that if you decide not to make your own mini cookies it's not gonna be missed. If you decide you want to though, click here to get the cookie recipe. Overall, super yummy dessert! If you like chocolate chip cookies then you will love these cupcakes!!
Cookie Dough Stuffing
Ingredients
2 sticks softened, unsalted butter
3/4 cup sugar
3/4 cup dark brown sugar
4 tablespoons milk
1 tablespoon vanilla extract
2 1/2 cups flour
1/4 teaspoon salt
1 cup mini semisweet chocolate chips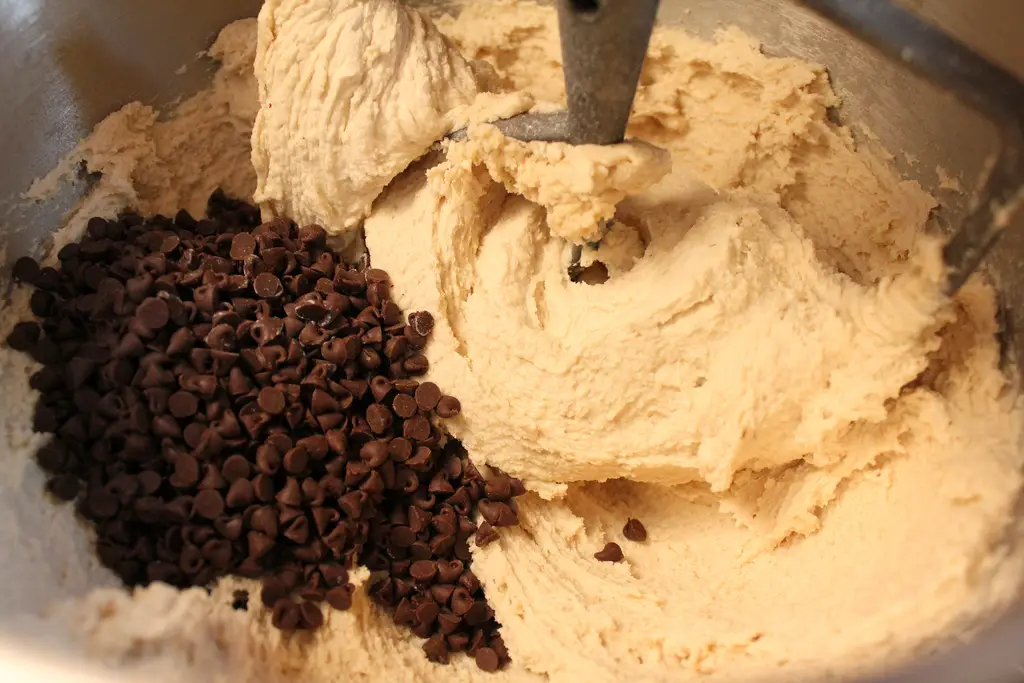 Combine the butter and sugars in a mixing bowl and cream on medium-high speed until light and fluffy, about 2 minutes. Beat in milk and vanilla until incorporated and smooth. Beat in the flour and salt until just combined. Stir in the chocolate chips. Using a cookie scoop, shape the dough into balls (golf ball sized). Freeze on a parchment lined baking sheet overnight.
Cupcakes
Ingredients
3 sticks unsalted butter, at room temperature
1 1/2 cups light brown sugar, packed
4 large eggs
2 2/3 cups flour
1 teaspoon baking powder
1 teaspoon baking soda
1/4 teaspoon salt
1 cup milk
2 teaspoons vanilla extract
1 cup mini semisweet chocolate chips
1 batch egg-less chocolate chip cookie dough, rolled and frozen
1 batch brown sugar frosting
Mini chocolate chip cookies, for garnish
Mini Semisweet chocolate chips, for garnish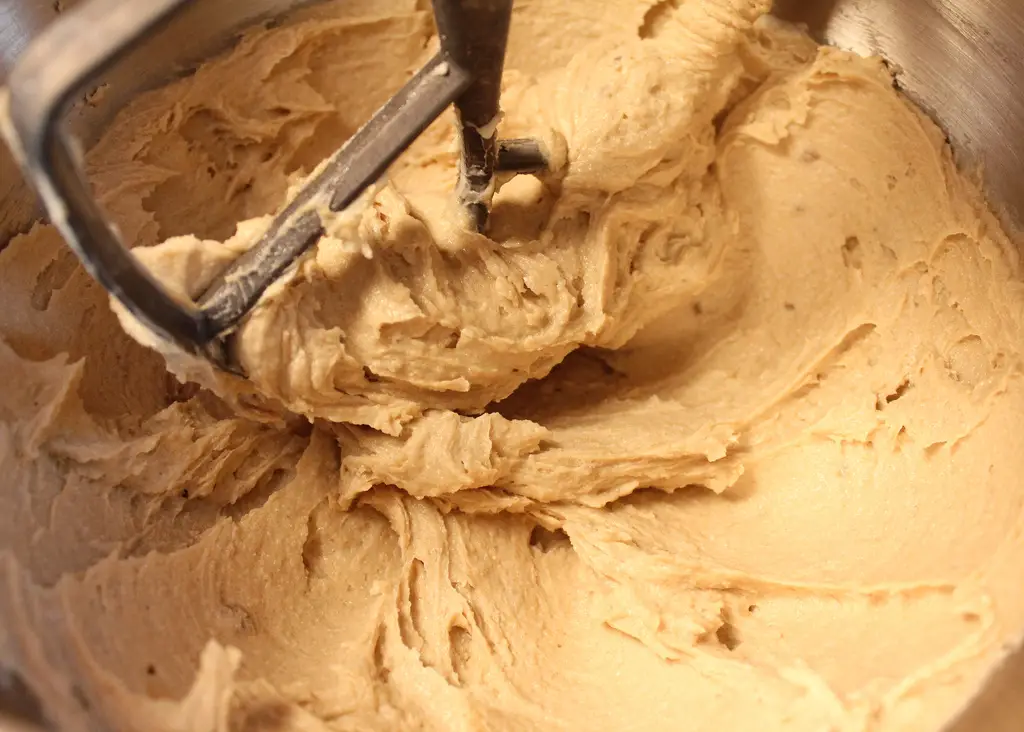 Preheat the oven to 350 degrees. Line two cupcake pans with paper liners. In the bowl of a stand mixer fitted with the paddle attachment, combine the butter and brown sugar. Beat together on medium-high speed until light and fluffy, about 3 minutes. Mix in the eggs one at a time, beating well after each addition and scraping down the sides of the bowl as needed.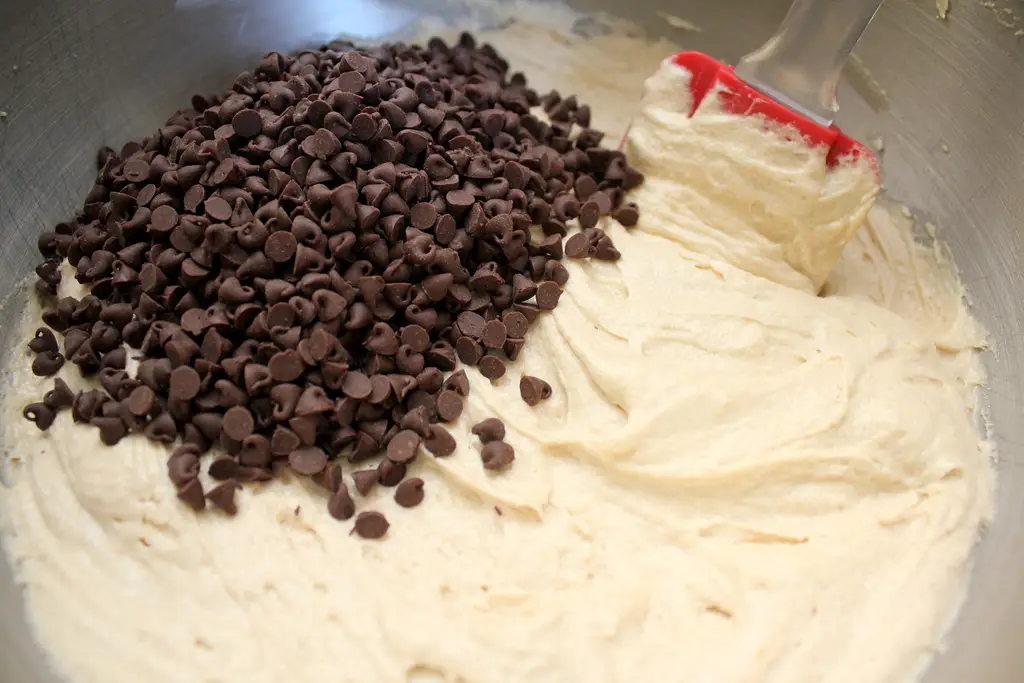 Combine the flour, baking powder, baking soda, and salt in a medium bowl. Stir together to blend. Add the dry ingredients to the mixer bowl on low speed, alternating with the milk, beginning and ending with the dry ingredients, mixing each addition just until incorporated. Blend in the vanilla. Fold in the chocolate chips with a spatula.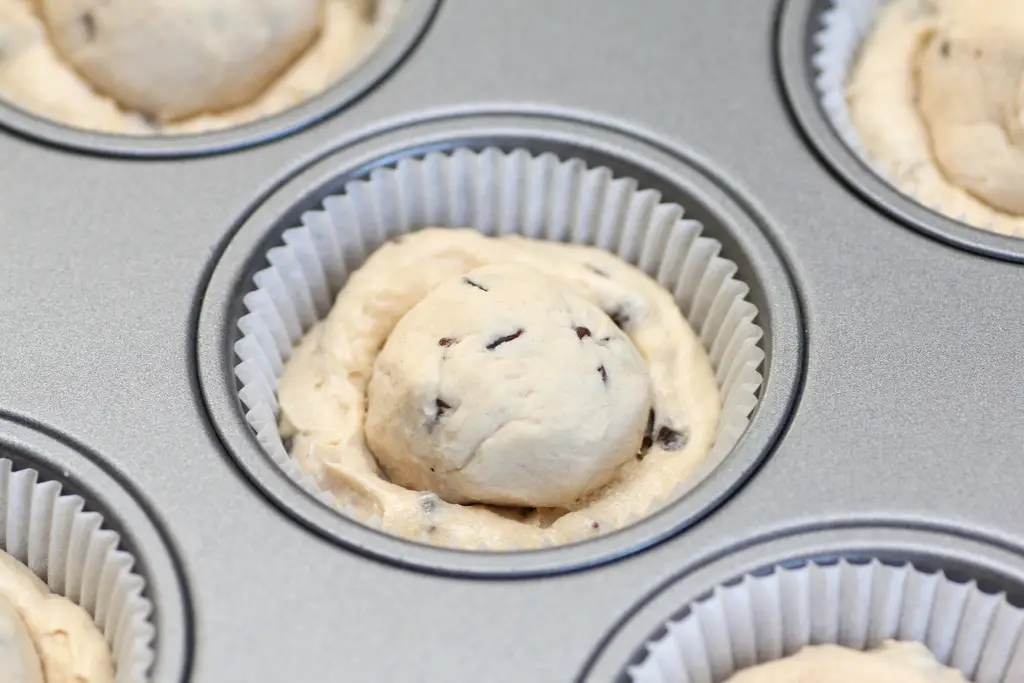 Scoop into cupcake papers about half to three-quarters full. Drop one frozen scoop of cookie dough into each cupcake. Do not press the dough down at all. Bake for 20-22 minutes until edges start to turn golden. Allow to cool in the pan 5-10 minutes, then transfer to a wire rack to cool completely.
Frost cooled cupcakes with Brown Sugar Frosting, and top with a cookie and mini chocolate chips.


Brown Sugar Frosting
Ingredients
3 sticks unsalted butter, softened
3/4 cup light brown sugar, packed
3 1/2 cups powdered sugar, sifted
1/2 teaspoon salt
2 tablespoons milk
1 teaspoon vanilla
Combine the butter and brown in a mixing bowl and cream on medium-high speed until light and fluffy. Beat in the powdered sugar until smooth. Beat in the salt, milk, and vanilla extract until smooth and combined. (Quick tip: I only needed to add 1 tablespoon of milk to bring the frosting to piping consistency, so I would add one tablespoon of milk and then proceed to add the second tablespoon slowly as needed.)
Recipe from The Spiffy Cookie