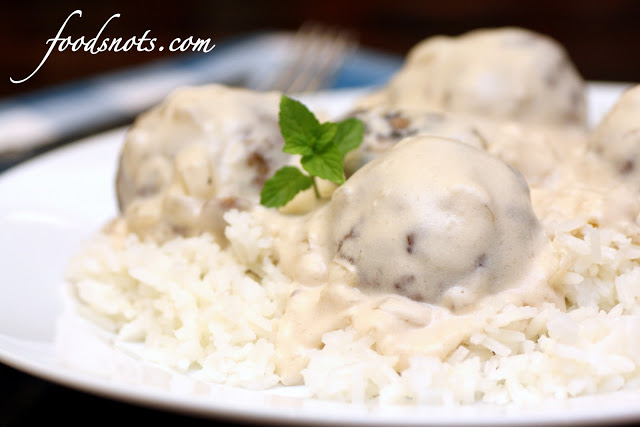 As a kid my mom always made Beef Stroganoff for us. So now it is one of my favorite dinners ever. This isn't her recipe, but I've been wanting to try one from scratch for a while. Personally I prefer the sirloin steaks with this, but the meatballs were a close second. I really like that it was a cheaper solution to a hardy meal. Also, if you usually have noodles with your stroganoff, try it with rice for a change. We have always had it with rice and I found that it is so much more of a comfort food this way then with the noodles. A totally delicious and relatively easy recipe to make. Hope you like it!!
Ingredients
1 egg
1/4 cup milk
1/4 cup finely chopped onion
2 teaspoons Worcestershire sauce
1 1/2 cups soft bread crumbs
1 teaspoon salt
1/4 teaspoon pepper
1 1/2 pounds ground beef
Sauce
1 1/2 cups sliced fresh mushrooms
1/2 cup chopped onion
1/4 cup butter
4 tablespoons all-purpose flour, divided
1/4 teaspoon salt
1 1/2 cups beef broth
1 cup (8 ounces) sour cream
Hot cooked noodles or rice
In a bowl, combine the egg, milk, onion and Worcestershire sauce. Stir in bread crumbs, salt and pepper. Crumble beef over mixture and mix well. Shape into 1 1/4-in. balls. Place in a lightly greased 15-in. x 10-in. x 1-in. baking pan. Bake, uncovered, at 350 degrees for 15-20 minutes or until meat is no longer pink.
In a saucepan, saute mushrooms and onion in butter until tender. Stir in 3 tablespoons flour and salt until blended. Gradually add broth. Bring to a boil over medium heat. Cook and stir for 2 minutes; reduce heat.
Combine sour cream and remaining flour until smooth; stir into mushroom mixture. Add meatballs. Simmer, uncovered, for 4-5 minutes or until heated through, stirring occasionally. Serve over noodles. Sprinkle with paprika if desired.
Yield: 6 servings.
Recipe at Taste of Home Winning Recipes