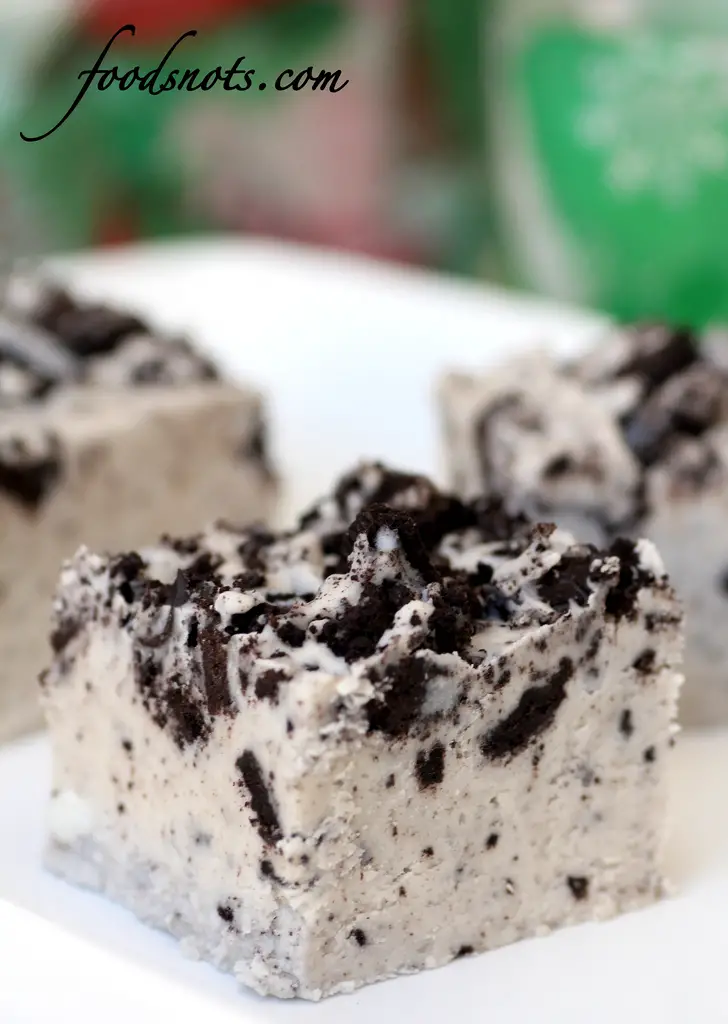 So, not a very long post today, and I'm sorry I don't have step by step photos of this recipe. I'm sure everyone is going as crazy as I am right now. That is unless you are smart and get all of your Christmas shopping done before December, which I don't… ever!! But even though I'm terribly behind on my Christmas shopping and house work, I wanted to quickly add this awesome recipe!!
Oh my gosh!! This is amazing. If you have ever had a Hershey Cookies'n'Creme candy bar, that is exactly what this fudge tastes like. It's amazing!! Both creamy and crunchy, and it just completely melts in your mouth. But I'm kind of bias considering I love Oreos, and anything that contains them. So you will just have to try them for yourself. Enjoy!!
Cookies and Cream Fudge
3 cups granulated sugar
3/4 cup (1 1/2 sticks) butter or margarine
2/3 cup (5-fluid-ounce can) evaporated milk
2 cups (12-ounce pkg.) white morsels
1 jar (7 ounces) marshmallow creme
1/2 cup finely crushed cream-filled chocolate sandwich cookies
1 teaspoon vanilla extract (optional)
1 cup crumbled cream-filled chocolate sandwich cookies
Line 9-inch-square baking pan with foil.
Combine sugar, butter and evaporated milk in medium, heavy-duty saucepan. Bring to a full rolling boil, stirring constantly. Boil, stirring constantly, for 3 minutes. Remove from heat.
Stir in morsels, marshmallow creme, finely crushed cookies and vanilla extract. Pour into prepared pan. Sprinkle crumbled cookies on top. Gently swirl cookies into fudge using a knife without touching bottom of pan. Refrigerate for 1 hour or until firm. Lift from pan; remove foil. Cut into 48 pieces. Store in airtight container in refrigerator. Yield: Makes 24 servings (2 pieces each).
Recipe from Nestle Holiday Favorites.