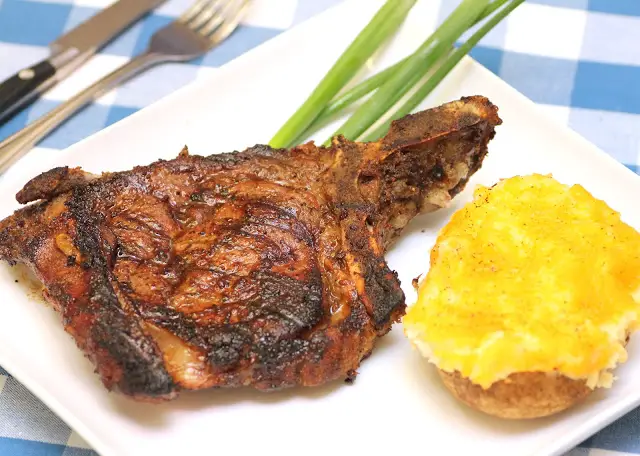 Still trying to put together my exact menu for my surprise Valentines dinner for my hubby, and am finally happy to say that this steak has made the cut. For the most part, I don't like to marinate my meat of add all the toppings, but this marinate is bomb!! Doesn't add so much flavor that it distracts from the steak, but makes the steaks juicy and compliments the meat perfectly. The twice baked potatoes was just to finish off the dinner, but I think I'm going to do something else for the V-day dinner. Just to make it classier feeling, but not because I didn't love the recipe. Although, I really feel like the potatoes would have been amazing with just a little minced bacon in with the mashed potatoes. But still a really awesome recipe. Enjoy!!


Grilled Marinated Steak
1/2 cup water
1/2 cup light soy sauce
2 tablespoons brown sugar
2 tablespoons lemon juice
2 tablespoons red wine vinegar
2 tablespoons extra virgin olive oil
1 tablespoon McCormick's Montreal Brand steak seasoning
1/2 teaspoon garlic powder
1/2 teaspoon chipotle hot sauce
1/4 teaspoon pepper
2 – 3 garlic cloves, smashed
2 beef steaks (1 in. thick)
In a large resealable plastic bag, combine the first 11 ingredients. Add steaks. Seal the bag and turn to coat. Refrigerate overnight, turning as often as you can. Drain and discard marinade. Grill steaks, over high heat for about 5 minutes on each side or until reaches desired doneness (for medium-rare, a meat thermometer should read 145 degrees, medium, 160 degrees, well-done, 170 degrees).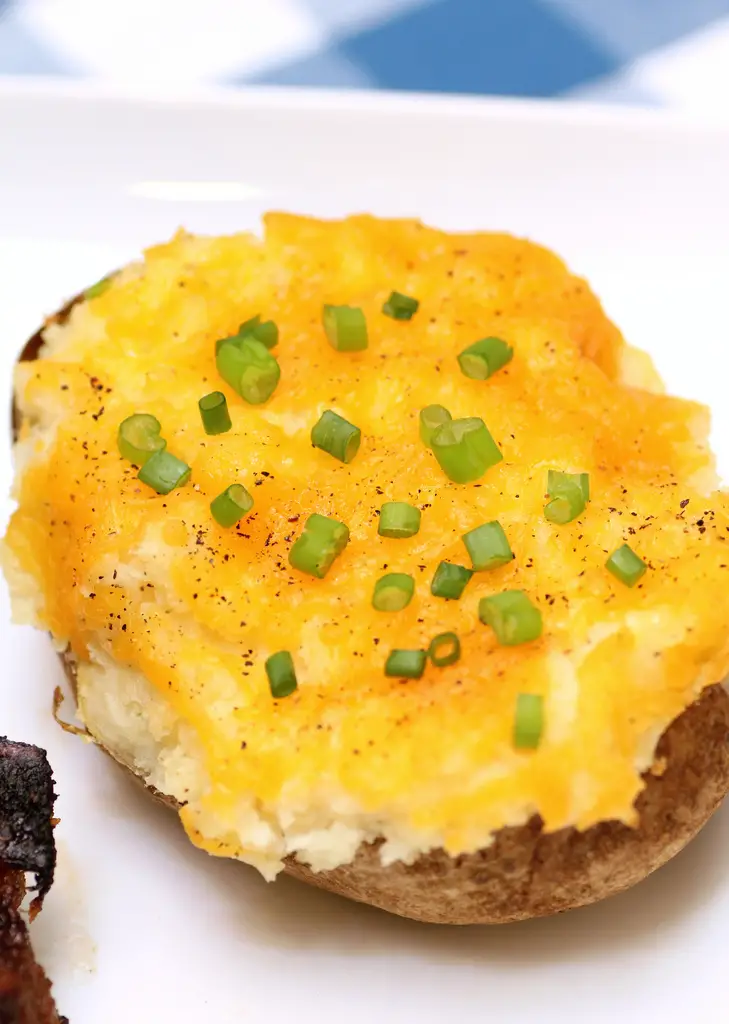 Twice Baked Potatoes
4 large russet potatoes, each about 3/4 pound each, scrubbed and dried
2 to 4 tablespoons unsalted butter
1/3 cup sour cream
1 scallion, finely chopped
Freshly grated nutmeg, optional
1/2 cup shredded sharp cheddar
Kosher salt and freshly ground black pepper
Preheat the oven to 400 degrees F.
Place the potatoes directly on the rack in the center of the oven and bake for 30 minutes. Pierce each potato in a couple spots with a fork and continue to bake until tender, about 30 minutes more. Remove potatoes from the oven, and turn the heat down to 375 degrees F.
Hold the potato with an oven-mit or towel, trim off the top of the potatoes to make a canoe-like shape. Reserve the tops. Carefully scoop out most of the potato into a bowl. Take care to leave enough potato in the skin so the shells stay together. Mash the potato lightly with a fork along with 2 to 3 tablespoons of the butter and sour cream. Stir in the scallion, nutmeg, and season with salt and pepper, to taste. Season the skins with salt and pepper. Refill the shells with the potato mixture mounding it slightly. Sprinkle the cheese on top of the potato filling. Brush the reserved top with the remaining butter and season with salt and pepper.
Set the potatoes and lids on a baking sheet, and bake until heated through, about 20 minutes. Serve immediately.