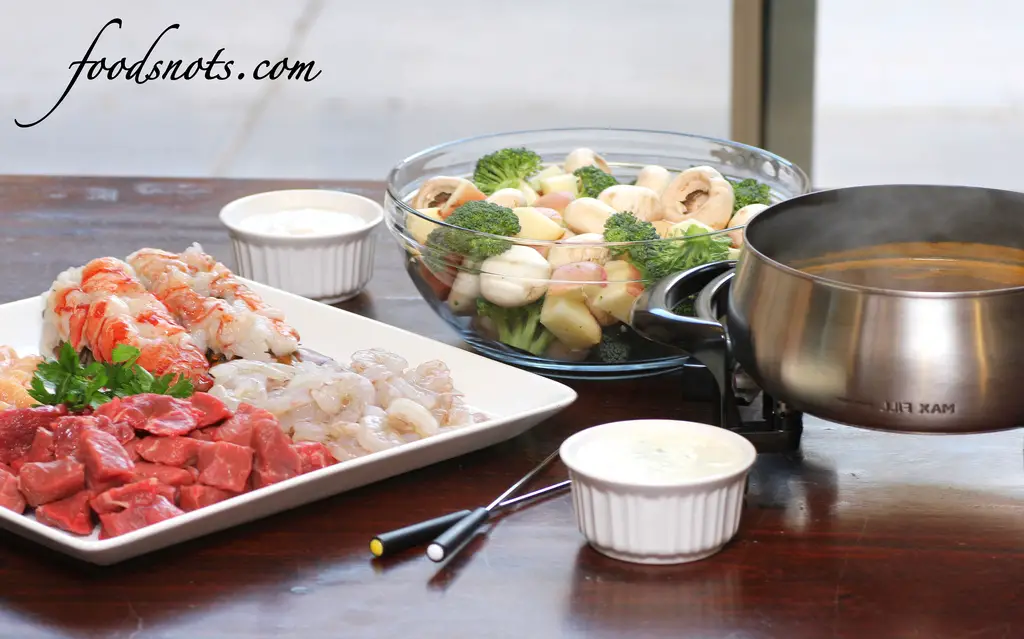 I don't know if any of you have ever been to The Melting Pot before, but it is one of my favorite restaurants ever. What makes it my favorite? Well, there's a couple things actually. First, the food. It's amazing. Including the dessert. Melted chocolate that you dip cheese cake, pound cake, marshmallows, and fruits into. It's divine!! I also love the whole experience of it. You go and sit for 2 to 3 hours and talk, cook your food, etc. And your hubby is stuck there with you in a kind of low lit romantic atmosphere with no Tv over your shoulder (like in many other restaurants). I just love it. But, it's a little pricy, so we only go for special occasions, and it's not really a "kid friendly" atmosphere. So I wanted to create the same fun experience for my little ones at home.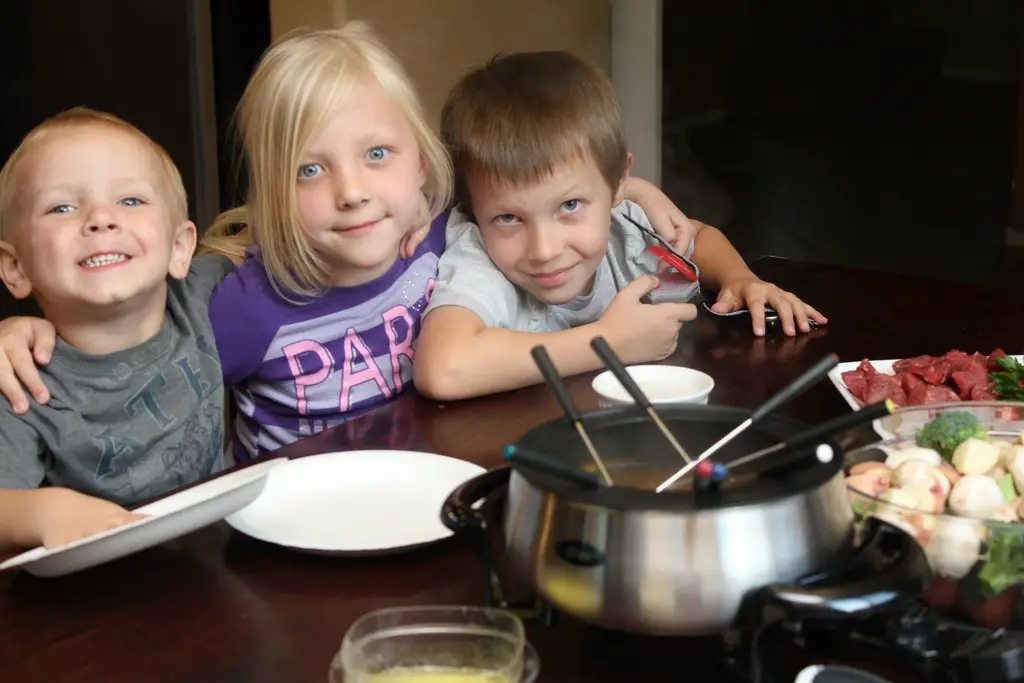 We had such a blast!! We only did the broth, but I have plans to make the cheese and chocolate fondues soon!! Especially the chocolate. My mouth is watering just thinking about it. So fun!! Enjoy!
Mojo Fondue Broth
5 1/4 cups vegetable or chicken stock
1 cup water
1/4 cup orange juice, fresh-squeezed
1/4 cup chopped fresh cilantro
2 tablespoons ground cumin
2 tablespoons jerk seasoning
2 tablespoons black pepper, cracked
2 tablespoons lime juice, fresh-squeezed
1 tablespoon minced garlic
Foods for cooking: Lobster, Shrimp, Beef, Chicken, Lamb, Mushroom Caps, Broccoli, Red Potatoes.
Other things needed (optional): Melted Butter and a Lemon Half (for lobster).
Combine ingredients in saucepan on stovetop. Bring to a boil. Transfer to fondue pot with alternative heat source.
Keep broth at a simmer, either on medium-high heat or set between 300-350 degrees F. Place meats onto fondue forks and into broth. Beef, Chicken, and Lamb meats take 2 minutes to cook, and lobster or shrimp take about a minute. Use Green Goddess Dip for vegetables or to put inside of cooked mushroom caps for stuffed mushrooms. Use Gorgonzola Port Sauce for meats, especially your steaks!!
Gorgonzola Port Sauce
1/2 cup mayonnaise
1/2 cup sour cream
2 ounces gorgonzola cheese
1/8 teaspoon kosher salt
1/2 teaspoon ground black pepper
1 teaspoon chopped garlic
1 1/2 teaspoons port wine
3 teaspoons milk
Combine all ingredients except gorgonzola in mixing bowl. Mix thoroughly using a whisk. Add gorgonzola cheese and blend well. Cover and refrigerate. (sauce will stay good for 5 days)
Green Goddess Dip
8 ounces cream cheese, cut into slices
1/2 cup milk
1/4 cup sour cream
2 tablespoons finely chopped onions
2 tablespoons finely chopped parsley
2 tablespoons finely sliced chives
In a microwave-safe container, microwave cream cheese and milk for 2 to 4 minutes, whisking after each minute, until cream cheese melts and mixture is smooth.
Stir in sour cream, onion, parsley and chives. Refrigerate until cold.