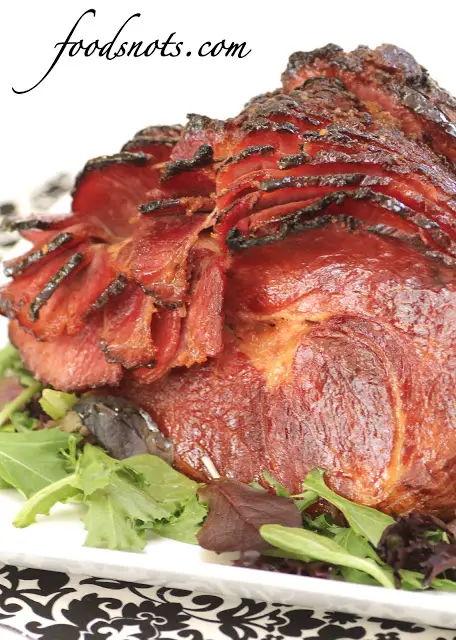 Today I have to sickies laying on the couch home from school, so I'm thinking, it's a bread baking day. I've been eyeballing this amazing looking Berry Mini Bread Loafs. So I think today I'm gonna finally get to make those since we're home-bound today.
I made this for dinner last night though. It's amazing!! You would think with the red pepper flakes and cayenne it would have a little kick to it, but not at all. It balances out the sweet honey glaze perfectly, giving it amazing flavor. I did have a problem with the amount of time it said to bake this for though. It says to bake for 1 hour, then 30 min., then another hour. That last hour, I only baked for 30 minutes and mine was done. So something to maybe keep in mind when your cooking.
I also change this a little bit. When applying the glaze before baking for the last time. I took about 2 or 3 tablespoons of brown sugar and rubbed it all over the glaze. This caused a little bit more of a crunch on the exterior of the ham from the melted sugar. I know that's what I like, so do what your personal taste calls for. This recipe was amazing either way though, and a lot easier then I thought it would be. Enjoy 🙂
Honey Baked Ham
6 pounds bone-in ham
1/3 cup brown sugar
1/3 cup honey
2 teaspoons cornstarch
1/4 teaspoon red pepper flakes
1/4 teaspoon cayenne pepper
Preheat oven to 350 degrees F.
Place ham on a rack in a foil lined roasting pan. Bake the rounded side up for one hour.
In a medium saucepan over medium heat, mix all ingredients together. Stir until it forms a nice this glaze.
Rub on half of the glaze and bake for 30 minutes more. Flip the ham over and rub on remaining glaze and bake for 1 hour more. Remove from oven and allow the ham to rest for at least 30 minutes before serving.
Yield: 8 servings.