The St. Valentine 's Day is one of the most popular occasions for celebration among pairs all over the world. Such celebration is very intimate: a romantic dinner for two, valentines, candles, declaration in love and tenderness. Cook some light salads and desserts and you darling will definitely appreciate this.
It's better to cook together as such culinary work will make you both even closer. We provide you tens of appetizers, salads and desserts!
Champagne mousse
Champagne mousse with cream and ratafia
300 ml of double cream;
4 tablespoons of sugar;
200 ml of champagne;
Small ratafia for setting the table.
How to cook?
Beat up cream and sugar, add champagne and beat up this mass once more.
Cool it a little and serve with ratafia.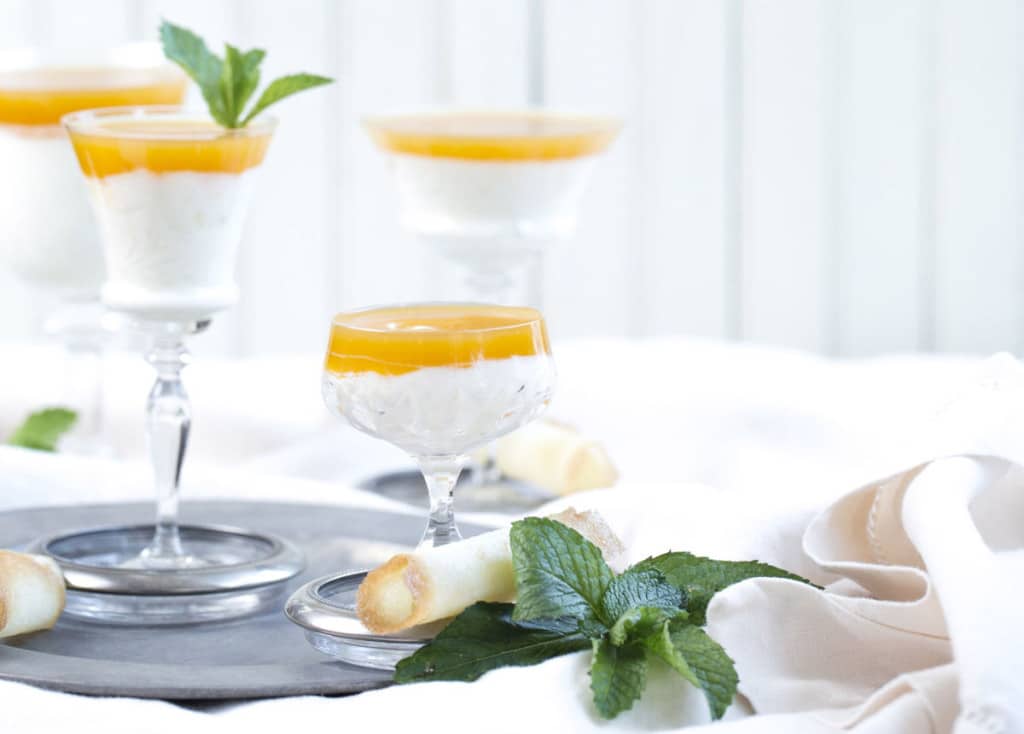 Bon appetite!
Sweet apple cups
A dessert with baked spicy apples and a filling from dates, sultanas and oranges
2 middle-sized apples;
80 gm of dried dates;
80 gm of sultanas;
2 tablespoons of Muscovado sugar;
a teaspoon of cinnamon, cardamom, ground cloves;
lemon peel and orange juice.
How to cook?
Cut apples in half, remove a core and a part of pulp, using a dessert spoon.
To cook the filling, mix chopped dates, sultanas, spices, sugar and orange peel. Put 2 teaspoons of the filling into each cup of the apple.
Lay out apples on a plate and cover them with orange juice. Now bake then in a microwave (500w) for 5 – 7 minutes.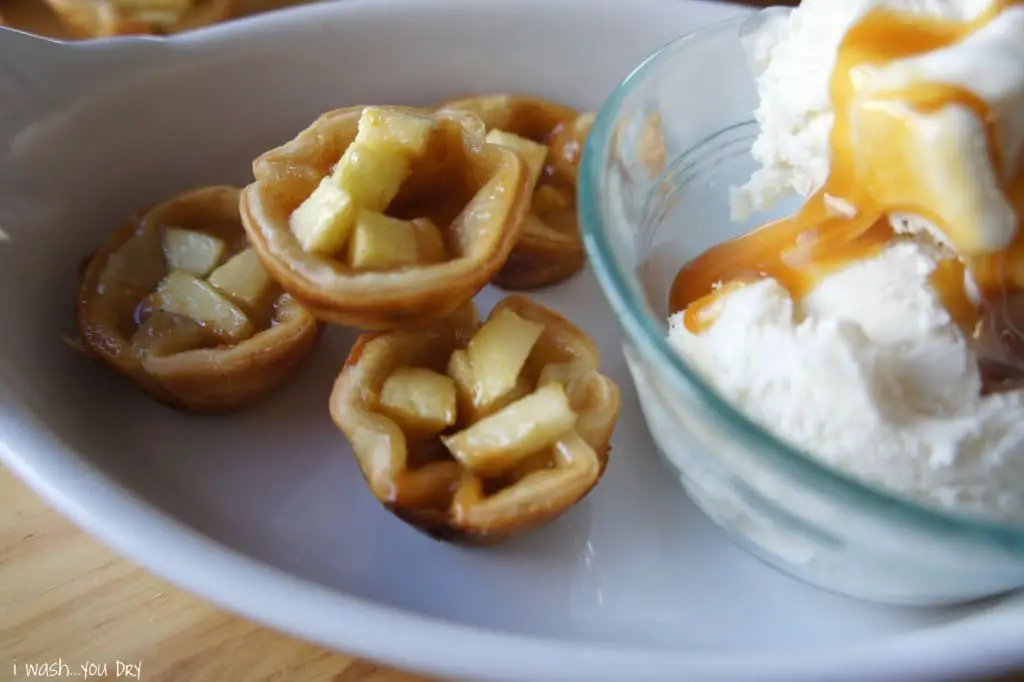 Bon appetite!
Peppers with mozzarella à la Italia
A dessert made of spicy Bulgarian peppers with mozzarella and anchovy
2 red Bulgarian peppers;
5 dried tomatoes in vegetable oil;
4 anchovy in oil;
a small bunch of sweet basil;
a handful of olives;
balsamic vinegar.
How to cook?
Divide peppers in half, remove seeds and septum. Oil them, add salt; bake about 20 minutes at 200˚.
Pound tomatoes and olives with 2 tablespoons of oil. Divide 4 anchovies in half and (8 strips). Add pepper.
Take out peepers from the oven, pour off the juice and add the filling. Close them by a half of mozzarella ball.
If you have a grill in the oven, put the dish under the grill for 3 minutes. You can also bake them at maximal temperature about 2 minutes.
Before to serve the dish, sprinkle it with vinegar and olive oil.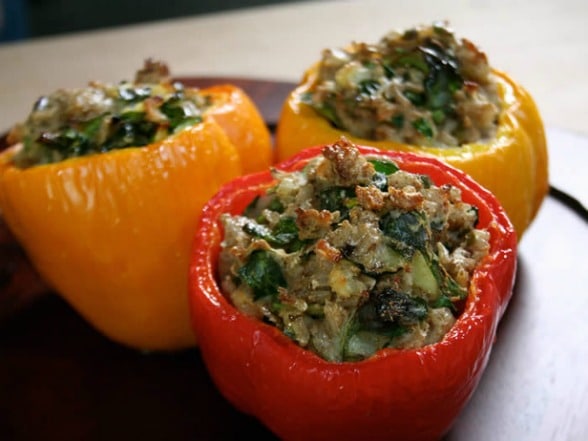 Bon appetite!
Salmon envelops
Patties with salmon and leek
4 leeks (chopped white part);
25 gm of butter;
100 gm of double cream;
6 sheets of puff pastry;
2 salmon fillet.
How to cook?
Stew chopped leek with 3 tablespoons of water and a bit of butter within 10 minutes. Let it cool and add sour cream.  Add salt and pepper.
Roll out the pastry. Put the sheets one by one, shifting them a little. Put a salmon fillet in the center and cover it with a vegetable filling. Lift up the edges and make a suture. Turn the envelope and repeat once more. Oil the top with bitter.
Bake at 180˚ for 20 – 25 minutes.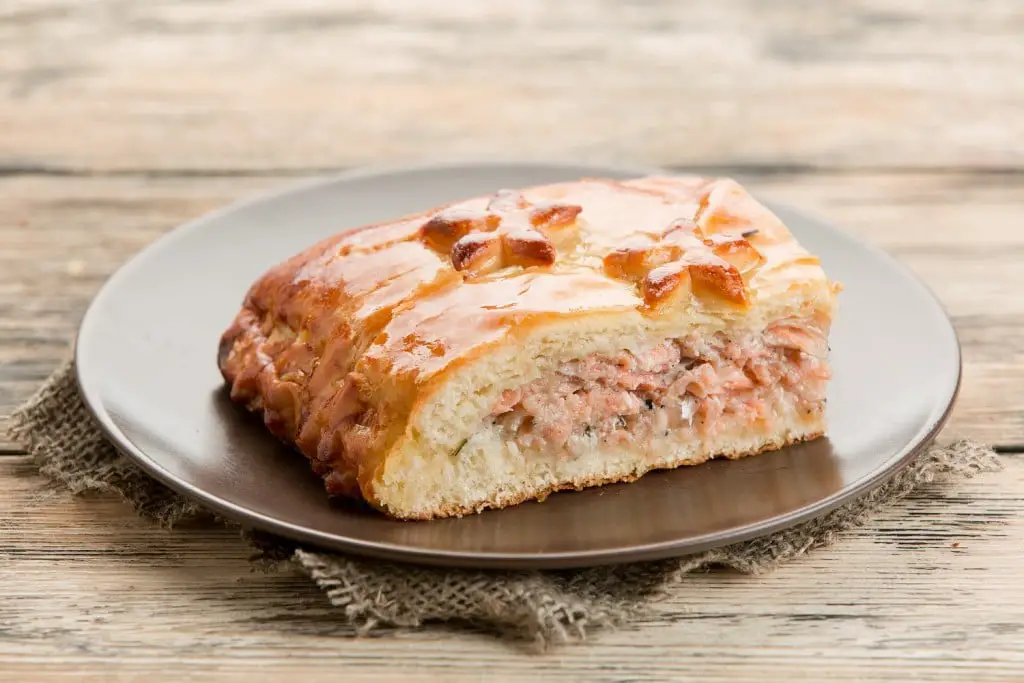 Bon appetite!
Chocolate soufflé
Chocolate soufflé with cream and cocoa-powder
75 gm of melted chocolate;
1 tablespoon of double cream;
2 eggs;
cocoa-powder;
a bit of mutter and sugar.
How to cook?
Heat up the oven till 180˚
Oil 2 heatproof cups with butter and sprinkle with sugar.
Beat up yolks and cream into melted chocolate.
Beat up proteins to get thick foam and add a chocolate mass gradually.
Lay out this mass in cups and bake 10-12 minutes.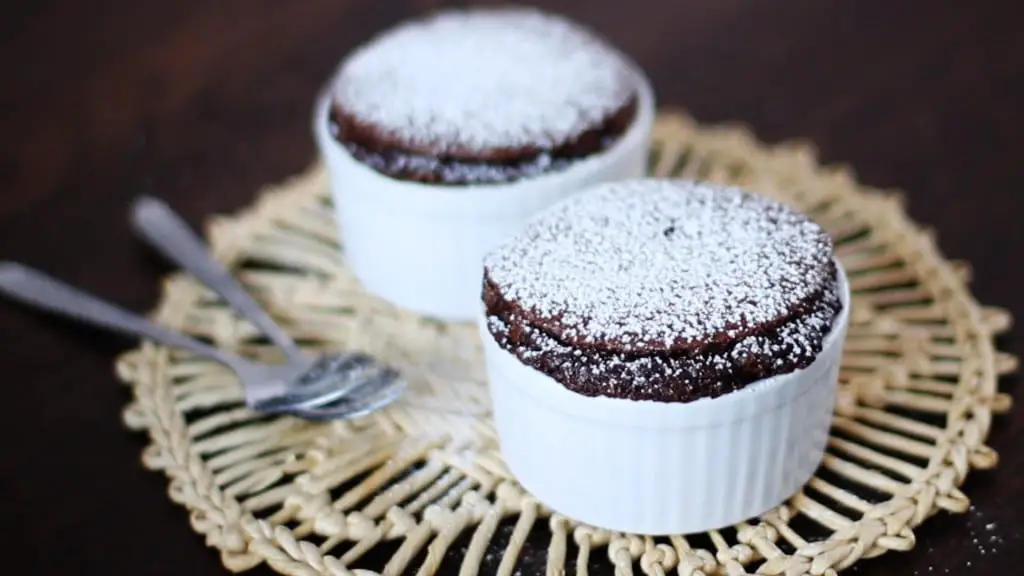 Bon appetite!
Salmon Carpaccio
Salmon appetizer in marinade with onion, eschalot and olive oil
400 gm of fresh salmon;
1 lemon;
1 onion (eschalot);
1 tablespoon of dill;
2 tablespoons of olive oil;
capparis;
lettuce leaves and bread for setting the table.
How to cook?
Wrap up already washed and dried salmon in a cling film and leave in a freezer for one hour.
To cook marinade: grate a lemon peel and press out the juice. Mix this chopped dill, eschalot, granulated sugar, olive oil and a pinch of sea salt.
Remove a film from the fish and slice it diagonally. Lay out one layer of the pieces on a plate and cover with the marinade. Coat the plate with a cling film and let it cool within 2 hours.
Serve the dish with fresh bread and lettuce leaves. Add black pepper.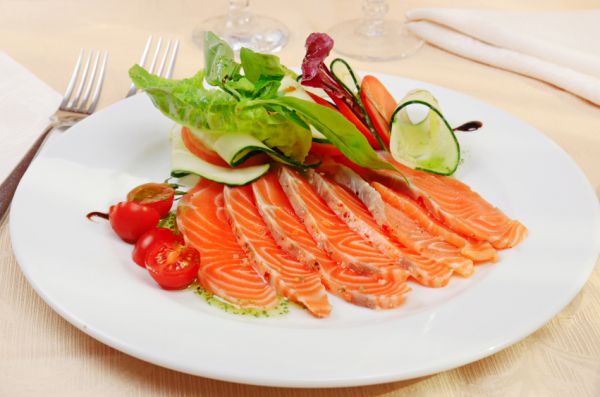 Bon appetite!
Prosciutto with pear and rocket
Italian ham, pear, cheese and rocket
6 pieces of Prosciutto ham ( or some other smoked ham);
1 teaspoon of lemon juice;
1 pear;
a handful of rocket;
several cutting of Parmesan cheese;
salt and Pepper;
12 toothpicks.
How to cook?
Slice the pear. Sprinkle it with lemon juice and spices.
Lay out some rockets, a slice of pear and a pinch Parmesan on each ham slice.
Make a roll and fix with toothpicks from both sides. Divide in half.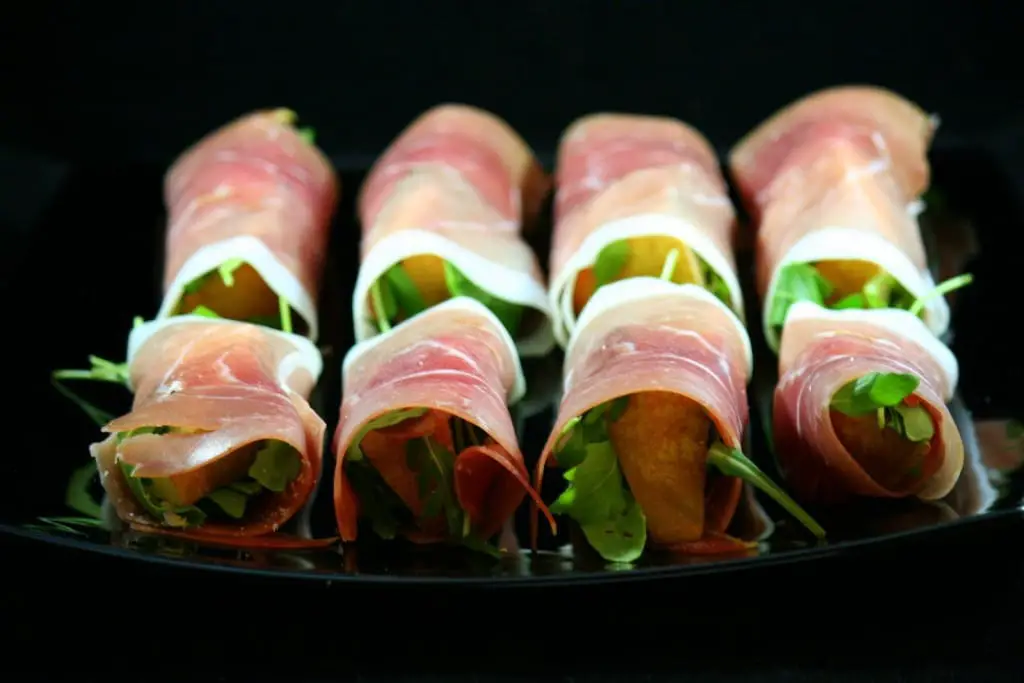 Bon appetite!
A salad with cuscus and nuts
100 gm of cuscus;
200 ml of vegetable broth;
spring onion;
1 red Bulgarian pepper;
1 small cucumber;
50 gm of Feta;
2 tablespoons of Pesto sauce;
2 tablespoons of cedar nuts.
How to cook?
Put a cuscus in a salad dish and add broth. Cover with a cling film and leave for 10 minutes.
Chop onion, pepper and cucumber. Add them to the salad.
Use a fork to stir Feta and Pesto. Add cedar nuts and dress the salad.
Asian chicken salad
A chicken salad with coriander, lettuce, chili pepper, and red onion
1 fillet of chicken breast;
juice of a lemon cedar;
1 teaspoon of granulated powder;
100 gm of lettuce leaves;
a handful of chopped coriander;
¼ red onions;
1/5 chili pepper;
1 cucumber.
How to cook?
Boil the chicken breasts and divide them into fibers.
To cook the sauce you need to mix juice and lemon cedar with granulated sugar.
Remove all seeds of pepper and crumble it. Cut a cucumber and coriander. Slice the onion.
Mix all the ingredients and dress them with sour – sweet sauce.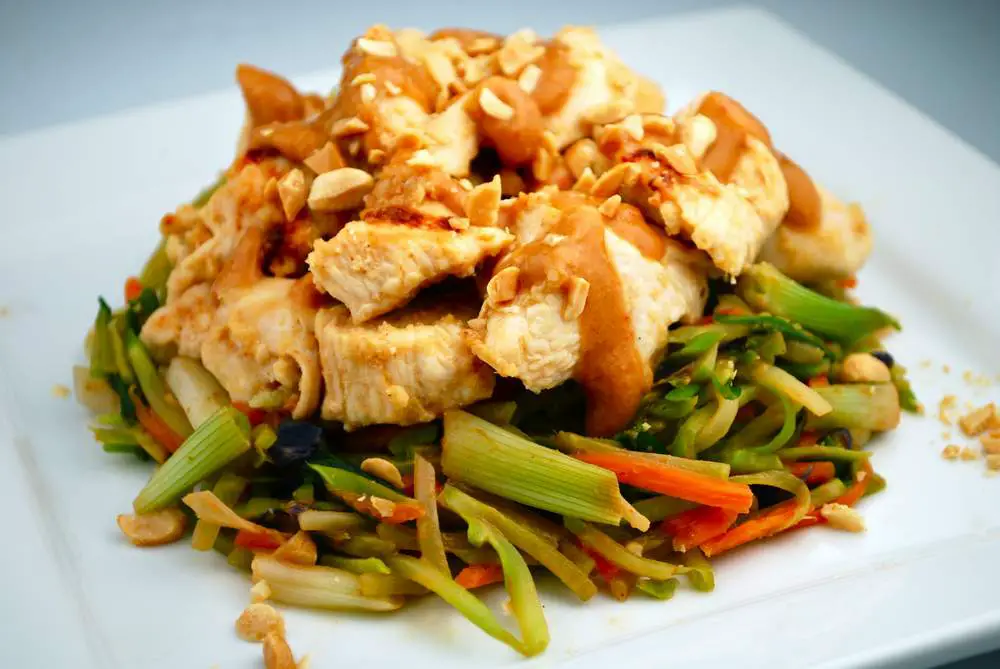 Bon appetite!
Bananas in caramel
Bananas fried in caramel sauce with ice – cream balls
3 big bananas;
4 tablespoons of Muscovado sugar;
2 tablespoons of butter;
100 ml of double cream;
1 tablespoon of fried seeds of sesame;
Several balls of ice – cream to serve the table.
How to cook?
Divide bananas into 4 parts and roll each piece in 2 tablespoons of sugar. Fry in butter. Roll up in a foil.
How to cook the sauce?
Mix the rest of oil, cream and sugar.  Heat up on a slow fire to dissolve sugar. Add the sesame.
Serve bananas with caramel and ice – cream balls.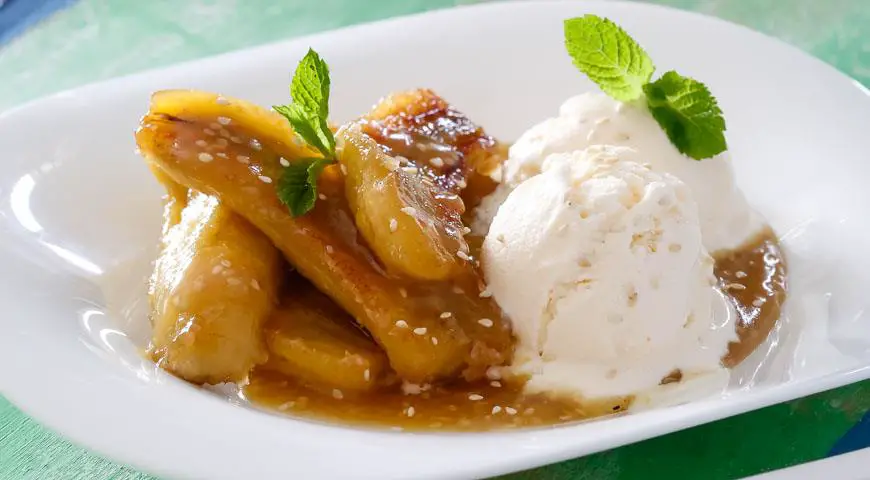 Bon appetite!